Women's Heated Vest Buying Guide 2023: Classic VS Stylish
Staying warm while working in wintertime is not easy for most women. Annoyance is that cold weather and heavy clothes would down our efficiency or performance. Have you already bought a women's heated vest to get rid of this issue? If yes, Venustas would be a great option, of course.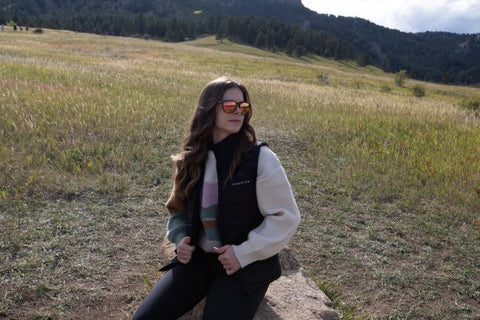 A heated vest powered by a battery generates heat to challenge the cold weather. Its heating performance makes it more competitive than ordinary vests, and gradually becomes the perfect piece in women's wardrobes. Also, most users maintain an idea that a heated vest is the enemy of low temperature. It would certainly be ideal winter gear.
If you have already decided to want a heated vest while still hesitating about which one to buy, please read this passage. We are going to discuss the difference between the classic heated vest and the stylish heated vest to help you decide.
Similarity
Both heated vests provide opportunities for staying warm on cold days. Let's see something they both have in common at first.
6 Carbon fiber heating element. 
Carbon fiber is used in heating elements to make both perform outstanding in heating. It's well-known that carbon fiber features stable thermal conductivity, making it widely being applied on heated gear. Thanks to the carbon fiber heating elements, these vests can heat up in a second and distribute heat more evenly.
7.4V battery.
Both heated vests are packed with a 7.4V battery to support power. It's an upgraded 7.4V battery with a capacity of 5,000 mAh. With 2 output ports available, the battery can charge the heated vest and smartphone simultaneously. Also, it only weighs 198-200g with a small size while being able to work up to 10 hours.
3 heating levels. 
An adjustable heating setting with a simple pressing button gives these heated vests more flexibility. Low, medium, and high level with different blinking colors indicate different temperatures.
Difference
Picking a heated vest seems like looking for a perfect winter partner in accordance with your hobbies. Now, let's talk about the main difference to find your favorite one.
Regular fit vs slim fit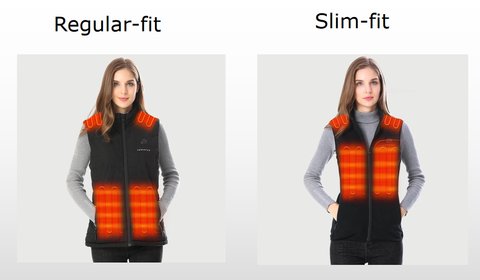 Fit is what women always value in selecting clothes. These heated vests are designed with different fit styles to meet more needs. The classic one has a regular-fit design to make it attractive to those who prefer the casual style. If someone likes a closer style to maintain a fashionable outlook, the stylish heated vest with a slim-fit design would be better.
Puffy vs lightweight
Materials used in these women's heated vests are different. The shell of the classic heated jacket is crafted with nylon fabric while the stylish one uses polyester fabric. Nylon and polyester are commonly used in heated apparel because both are water-resistant and abrasion resistant. Also, nylon have more stretchability than polyester. If you would like a loser style, the classic one would be a great choice.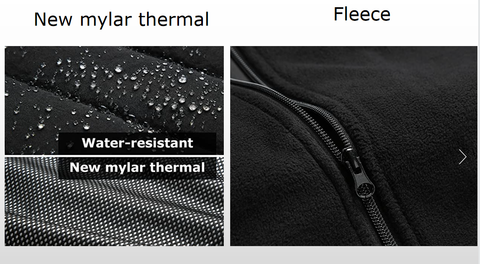 In the inner layer, the classic one uses a new sliver mylar thermal lining to make it better than others. And the stylish one adopts soft fleece fabric to enhance comfort and warmth, making it lightweight and versatile. If you are looking for a puffy heated vest, the former would be the best. And the latter is more suitable for those women who prefer soft fabric and lightweight wearing experience.
Belly vs chest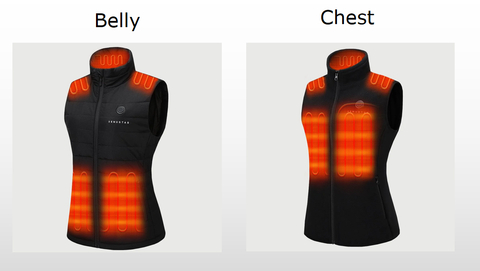 Both are equipped with 6 carbon fiber heating elements, but the heating area has some slight differences. The puffy women's heated vest is designed with left&right heating pockets to warm the belly while the lightweight women's heated vest covers the heating area on left&right chest.
Color options
The heated vest for women always uses blank colors not bright color. For example, this classic heated vest only has black color and the stylish one is designed with two colors: black and grey.
Conclusion
The women's classic heated vest and stylish heated vest feature unique design and style. Now, have you already made a decision? No matter which one you pick, the heated vest for women would let your wintertime more enjoyable.
Follow us on Facebook and Instagram.
Join our Group on Facebook to get more discount information on Venustas.
Read Venustas heated jacket manual:
---