Why Heated Clothing are More Popular with Outdoor Sportsman?
People have traditionally depended on any available layers of clothing to keep themselves warm. Today, however, heated clothing have revolutionized this concept of relying on heavy clothes by building with a heated system to provide warmth. This has led to the widespread popularity of heated clothing among outdoor enthusiasts and winter sports athletes. In this article, we shall explore the advantages of wearing heated clothing and recommend three specific types of Venustas heated apparel based on sporting activity.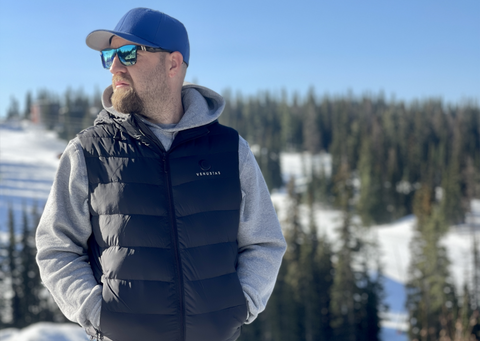 Benefits of Heated Clothing for Outdoor Sportsmen
Despite the enjoyment of participating in winter sports, your mood also will be affected if there are inclement weather conditions. Maintaining warmth is critically important for athletes because it can significantly impact their performance and safeguard against physical harm. Therefore, heated apparel is an ideal solution for these outdoor lovers.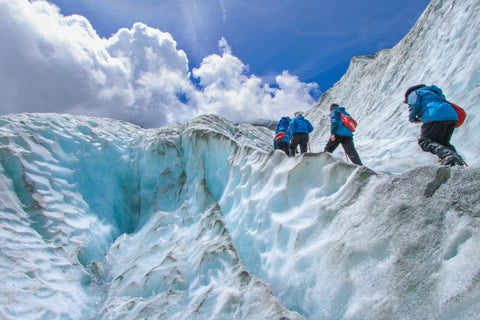 Less Burden
Athletes should maintain warm muscles in sub-zero temperatures in order to avoid any injuries. Instead of layering bulky clothing, the use of heated apparel can be beneficial for both short-term and long-term outdoor activities as it promptly provides enough warmth and comfort.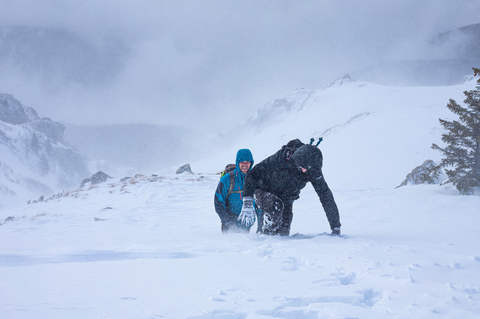 Adjustable Temperature Levels
Layering has been a primary method for individuals to maintain warmth during colder weather conditions. However, excessive layering may lead to overheating among winter sports enthusiasts. Wearing a Venustas heated jacket, sportsman can adjust the temperature setting, which provides prompt and convenient heat as needed and affords athletes the ability to focus solely on achieving success.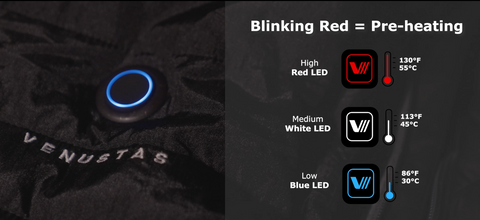 Reduce Injury
When the temperature is below zero, inadequate clothing in such conditions may increase the likelihood of frostbite among athletes, particularly in areas of poor blood circulation such as the nose, hands, feet, and ears. Maintaining proper warmth of the body's core during sports activities is essential to minimize the risk of injury.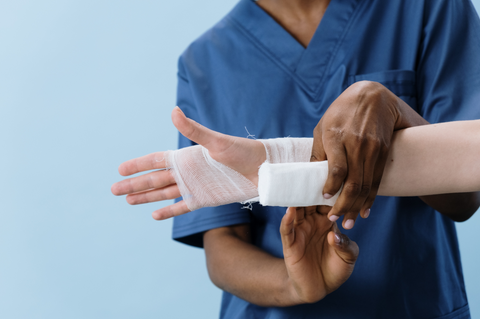 Improve Flexibility
Bitterly cold weather can hinder muscle contraction, causing stiffness and slowing reaction times. However, built-in heating elements can generate heat across the core body areas, increasing blood circulation, improving dexterity and reaction times during cold weather events.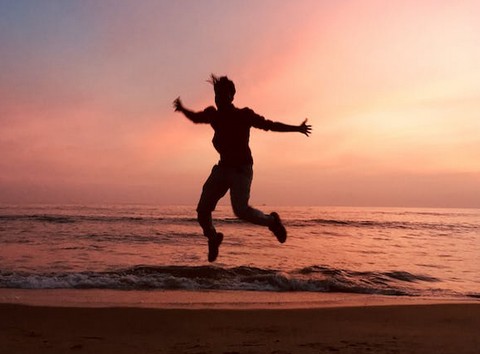 Heated Jackets Suitable for Different Sports
The utilization of electricity to generate heat for the purpose of combating cold environmental conditions is the most important feature of heated clothing. When purchasing these products, athletes typically prioritize aspects such as style, versatility, heating elements locations, and water resistance. Three distinct of heated clothing are highly recommended for various types of sports including running, skiing, golfing, etc, offering sportsmen notable benefits upon wearing them.
| | |
| --- | --- |
| Heating zones | 6 |
| Fabric | Fleece |
| Style | Slim |
| Battery Life | 3hrs on high, 5-6hrs on medium, 8-10hrs on low heating setting |
| Water-resistant | No |
 Expertly designed with ultra-soft fleece fabric, Venustas heated vest boasts the ability to trap heat and provide ultimate protection from the cold. Our state-of-the-art technology includes six carbon fiber heating elements, strategically placed in core body areas such as the collar, left and right shoulders, left and right chest, and mid-back to keep you warm while golfing in low temperatures or chilly morning. Additionally, the vest's lightweight, breathable, and well-fitted material does not hinder your swing, ensuring maximum comfort on the golf course.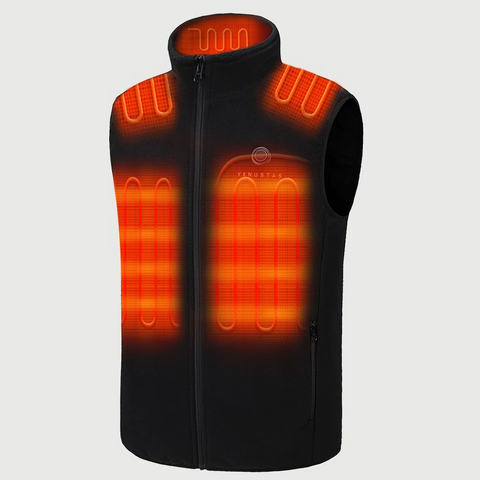 | | |
| --- | --- |
| Heating zones | 5 |
| Fabric | breathable down fabric |
| Style | Regular |
| Battery Life | 3hrs on high, 5-6hrs on medium, 8-10hrs on low heating setting |
| Water-resistant | Yes |
 The men's heated jacket boasts 5 high-performing heating elements that effectively distribute heat throughout the main body, including the back, chest, and two pockets, ensuring optimal protection against harsh winds and low temperatures. Made with a blend of 90% white duck down and 10% white duck feather, this jacket is both lightweight and comfortable, offering superior warmth without adding unnecessary weight and burden. Additionally, the water-resistant nylon fabric is designed to prevent chilly wind, rain and snow, making it an ideal choice for skiing enthusiasts looking for reliable protection against the unpredictable weather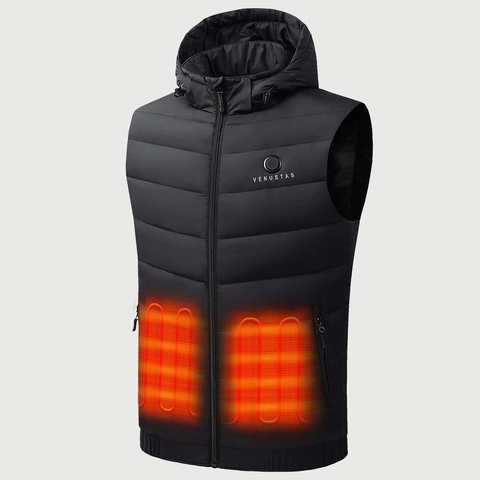 | | |
| --- | --- |
| Heating zones | 5 |
| Fabric | Nylon |
| Style | V-neck, lightweight |
| Battery Life | 3 hrs on high, 6 hrs on medium, 10 hrs on low heating setting) |
| Water-resistant | Yes |
 The heated vest incorporates 5 Graphene heating zones that distribute heat evenly across the core areas of the body, namely the left and right chest, mid-back, and left and right shoulder. Its lightweight design are conducive to a more comfortable running experience. The V-neck design enables ease of movement without restriction. The fabric is both water and wind-repellent, assuring protection against inclement weather conditions.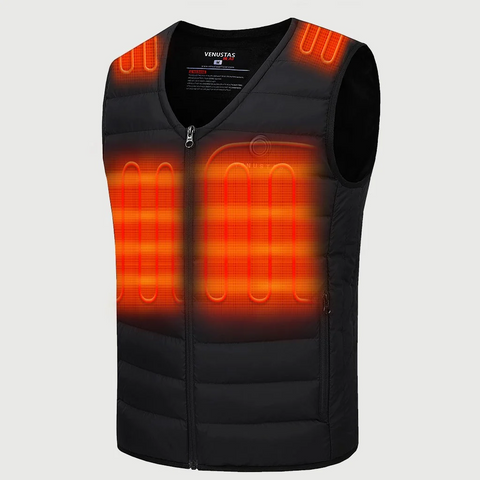 Conclusion
Winter sports requires enhanced insulation, yet sportsmen alike desire lightweight gear. Wearing heated clothing ensures comfort, dryness, and readiness, regardless of the low temperature. Boost your outdoor game with Venustas innovative heated apparel.
Follow us on Facebook and Instagram.
Join our Group on Facebook to get more discount information on Venustas.
Read Venustas heated jacket manual:
---