Venustas Women's Heated Jackets Buying Guide 2023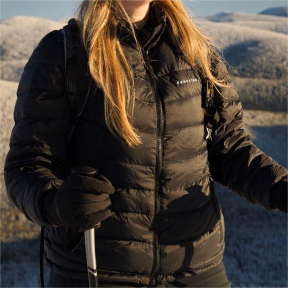 ---
Little V
05-18-2023
Venustas Women's Heated Jackets Buying Guide 2023
When it comes to cold weather gear, heated jackets have gradually become a game-changing option. Compared with the clothes we used to wear, heated jackets feature built-in heating elements to provide efficient and adjustable warmth. It relieves the annoyance brought by many layers of clothing and extends outdoor time in a chilly environment.

The outstanding performance of heated jackets captures a great amount of attention, especially for women who are more susceptible to cold weather. And there are multiple heated jackets with different styles and designs on the market. So, which one fits your preference? In this blog, we review and compare different styles of Venustas women's heated jackets to help women choose the right one.
Content
Features women look for in heated jackets

Our women's heated jackets option

Our review and comparison
It seems that most women have a knack for shopping. And when they purchase heated jackets, they tend to consider a wide range of factors to make the right decision.
Overall performance. Typically, the primary consideration in evaluating a heated jacket is to look at the heated system. Know that heated jackets use different heating elements placed in different body areas. If wearers always have cold hands in winter, a heated jacket with pocket heating areas is the best option. Also, some women who always spend a lot of time outdoors consider the battery type that decides the heating hours.
Style and design. Compared with men, women focus more on style and design. When selecting a heated jacket, they always look for one that not only keeps the body toasty but also maintains their fashionable outlook. And they always care about the details, like cut, silhouette, and color.
Clothing material. Women's skin tends to be more sensitive and they would value the fabric of heated jackets. They always prefer soft and skin-friendly material, like fleece or down fabric. And they also like to choose clothing fabric that is not easy to out of shape for long-period use.
Size. The size choice of heated jackets is related to comfort. Most women aim to find heated jackets fitting their shape without feeling too tight or too loose.
Best overall: Women's 3-in-1 heated jacket
Best classic: Women's 7.4V heated jacket
Best stylish: Women's heated long down jacket
Best waterproof: Women's 7.4V heated sailing jacket
Best insulated: Women's 7.4v heated down coat

Our customer rating: 4.8/5
Heating performance: 4.7/5 Design:5/5 Waterproof: 4.7/5 Comfort: 4.9/5 Value: 4.7/5
This is a bit much unless it is very cold outside. That being said, when we know we'll be out for at least a couple of hours, this is amazing. Especially if worn underneath a larger jacket. The battery pack lasts quite a while, she's never had it run out before being done using it. The jacket gets plenty warm, enough that she turns it off and on as time goes on. The heating zones arent noticeable individually, unless you are in a seat and leaning against them. Just walking around outside, you feel warm and not just heated in spots. -- W Holder
If you would like an all-purpose heated jacket, this 3-in-1 one is the ideal outfit. It adopts a 3-in-1 design to enable users to wear a water-resistant shell and inner down coat separately or together. And it uses 5 carbon fiber heating elements and a 7.4V battery to build an outstanding heated system, which can provide up to 9 hours of warmth. Also, other detail designs includes the zipper pocket, inner control button, and adjustable wrist to make it easy to use.

Our customer rating :4.9/5 Warmth: 4.8/5 Design:4.9/5 Waterproof: 4.7/5 Comfort: 5/5 Value: 4.8/5
I bought this jacket for my wife because she works outdoors and she loves it! It's warm, waterproof and the battery is awesome for heating the jacket and charging her cell phone. We did have one minor hick-up so we contacted Venustas customer service and they were amazing! They resolved the issue quickly and were incredibly knowledgeable and friendly. I highly recommend this jacket! --Nick Saechow
The 7.4V women's heated jacket is the best classic one that hits in the market. 5 carbon fiber heating elements generate heat accessible to core body areas, which enhances the comfort level in harsh weather. And the shell of such jackets is made of water-resistant nylon fabric to set users free on rainy or snowy days. Also, this heated jacket for women is designed with 5 YKK zipper pockets to allow users to store something when going out.

Our customer rating :4.9/5 Warmth: 4.8/5 Design:5/5 Waterproof: 4.8/5 Comfort: 4.9/5 Value: 4.9/5
This heated jacket is a lightweight, down material. The length is great and the functionality is even better. When the rechargeable battery is turned on, the battery life percentage is shown in a number 1-100. The jacket is controlled by the button on the front and there are low, medium, and high settings. You can tell what setting it is on based on the color of the light. I put the jacket on and within about 10 minutes it was all heated up! --Pranay Narain
If someone would like to buy a long-length jacket to cover more of the body, this women's long down heated jacket is a great recommendation. It changes the short design to extend the length, which maximizes the warmth and follows the trends of the long style. When it comes to the filling, this jacket particularly uses soft white duck down to provide long-term warmth. Also, the big hood with soft fleece can protect your head and ear.

Our customer rating :4.9/5) Warmth: 4.8/5 Design:4.9/5 Waterproof: 5/5 Comfort: 5/5 Value: 4.8/5
Bought this for my girlfriend, she absolutely loved this. It was a perfect fit. She loved the cut and pockets. Upon turning on the heat she noticed it was a nice even heat all over. At one point it got so warm she had to turn it all. We live in Alaska so it can get quite cold. It was rated a 10/10 you won't be disappointed --Jeremy Grueneberg
This heated sailing jacket for women is the perfect option for those who like to engage in outdoor activities, whether it's camping, hiking, or boating. It's a heated jacket that comes with water-repellent fabric to enhance your comfort in unpredictable weather. And warmth is guaranteed by the 5 carbon fiber heating elements. Besides, other human-center designs including anti-pitch, adjustable hem, and retractable hood bring a comfortable wearing experience.

Our customer rating :4.9/5 Warmth: 5/5 Design:4.9/5 Waterproof: 4.8/5 Comfort: 4.9/5 Value: 4.9/5
I got a medium so I can wear bulky sweatshirts, but I wear a small. It still has a lot of room. Love the look! Deep pockets are nice but I wish it was a zipper and not a button. I have long arms so the sleeve extender is perfect! It has a pull string on the bottom of the jacket so cold air doesn't get in if the jacket is a little big as well as the hood. This jacket is very warm. This jacket started right up but I only used the high. So toasty. I love it and it is beautiful!! The only jacket I want to wear now!! -- Adelle Langworth
Down coats are what we always wear to beat the cold. If you still feel cold, this heated down coat is your best bet. This heated coat is crafted with 90% white duck down and 10% white duck feather to let wearers feel like they're wrapped in a warm blanket. And the 5 carbon fiber heating elements with a larger design can effectively enhance warmth even if you live in the coldest place.
Table header 0

Heating performance

Clothing material

Design

Review

Price

Women's 3-in-1 Heated Down Jacket
5 carbon fiber heating elements
7.4V battery
Outer shell: polyester
Inner shell: Nylon
Inner filler: 90% white duck down &10% white duck feather

3-in-1

4.8/5

$299.99

Women's 7.4V Heated Jacket
5 carbon fiber heating elements
7.4V battery
Shell: 100% nylon
Lining: New Sliver mylar thermal

5 pockets with YKK zippers

4.9/5

$149.99

Women's Long Down Heated Jacket
5 carbon fiber heating elements
7.4V battery
Shell:100% nylon
Inner: 90% white duck down & 10% white duck feature

Long length design

4.9/5

$239.99

Women's Heated Sailing Jacket
5 carbon fiber heating elements
7.4V battery
Shell:100% polyester
Lining: nylon

Retractable hood

4.9/5

$199.99

Women's 7.4V Heated Down Coat
5 carbon fiber heating elements
7.4V battery
Shell:45% nylon 55% polyester
Inner: 90% white duck down & 10% white duck feathe

Detachable & Adjustable hood

4.9/5

$219.99
In a word, Venustas women's heated jackets feature outstanding warmth and comfort. It's the best option to gift your partner, families, and friends. Hope this guide can help you find the right one for yourself or your friends.
Author
Little V
Tags
Buying Guide