Who Makes the Best Heated Jacket?
If you live in a cold area, or if you like to enjoy a comfortable winter life, the heated jacket would be your best consideration.
Heated jackets have successfully occupied one place in winter owing to its advanced heating system. It is powered by a battery to generate heat through the heating elements. That's also the biggest difference compared with traditional jackets.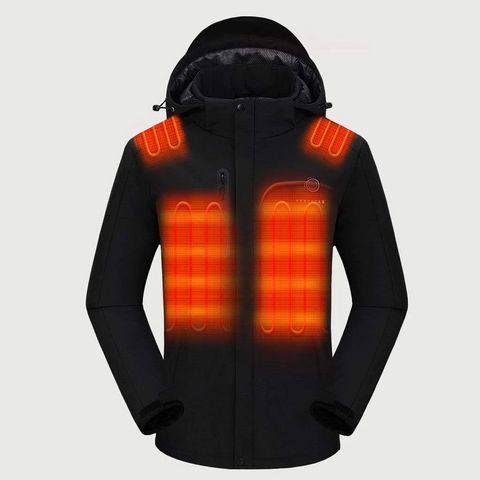 As popularity increases, most manufacturers seize the opportunity to develop heated apparel. But, to some extent, maybe this broom easily makes people get lost in various market. "Who makes the best heated jacket" or "How can I buy the best heated jacket" become a common issue in most people's minds. So, in this article, I pick the top3 heated apparel brands to cover more details.
VENUSTAS is a global leading brand in the heated apparel industry. Founded in 2018, VENUSTAS lively actives in the market with high-quality and reliable products. Just like its mission "Develop accessible products that do not limit to any environment", VENUSTAS is on the way. That's why it gets my recognition.

This women's heated jacket 7.4V we tested is the best seller in VENUSTAS Store. It works well as introduced, no matter the heating performance, material, or design.
When I first saw this jacket, I was impressed by the overall design. It is not bulky with lightweight material. Also, its layer feels soft without any uncomfortable feeling. Visually, it looks stylish with a slim-fit design that can highlight a good outlook.
It deeply enhances a good impression when I wear this jacket. 5 carbon fiber heating elements warm chest, shoulders, and mid-back area. With 3 heating settings, this jacket is flexible to provide a perfect level of comfort. Also, it includes a 7.4V battery that can support long-lasting warmth. As tested, it can work up to 9 hours at low levels which is enough to enable you to have a nice sleep.
ORORO, a specialized heated apparel company, strikes to develop products that people can depend on. It focuses on product quality, safety, and affordability. That's the key to winning unprecedented approval among customers.
Based on the product popularity, I tried its classic men's heated jacket. I like its water-resistant fabric and detachable hood design. Both allow us to be free on rainy or snowy days. It releases our annoyance when we meet unpredictable weather.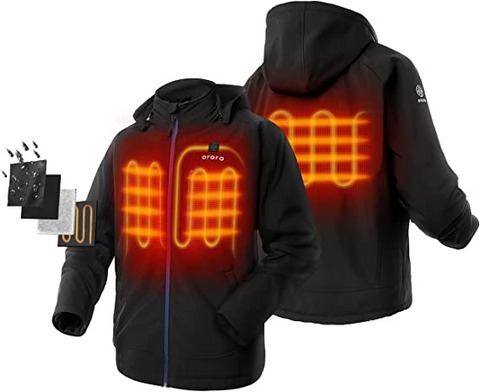 3 precision-engineered heating elements perform well, like it can provide warmth in seconds. And the warmth is enough, which means you don't wear any layers. Also, ORORO upgraded its battery to make it more durable and portable, which brings customers a better experience. But I feel it is too large that maybe restricts my movement when I try on it.
DEWBU is a known heated apparel company with attention to production and sale. It contributes to making apparel accessible on cold days, empowering people challenge to the climate.
In our test, we review a 12V heated jacket from DEWBU Store. This heated jacket comes with a soft shell and thermal lining to make it more comfortable. With 5 heating zones, we can feel remarkable warmth covering the chest, back, and arms.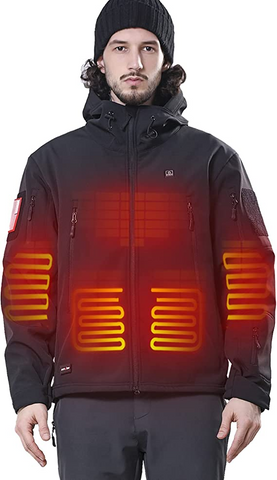 And its human-centered design is impressionable. A foldable hat provides more flexibility and multiple pockets satisfied more needs. Also, this jacket uses a 12V heating system to retain longer working hours. But it may be a little weight.
Conclusion
VENUSTAS, ORORO, and DEWBU are the world-leading heated apparel brand on the market. All have unique designs, materials, and performances. No matter which one you pick, the most important thing is you like it.
Follow us on Facebook and Instagram.
Join our Group on Facebook to get more discount information on Venustas.
Read Venustas heated jacket manual:
---