What Should Be Considered When Buying a Heated Vest?
Spring and autumn are applicable for dressing a heated vest. There are a wide variety of electric vests which look attractive in market . When you decide to purchase one, what details should you pay attention to?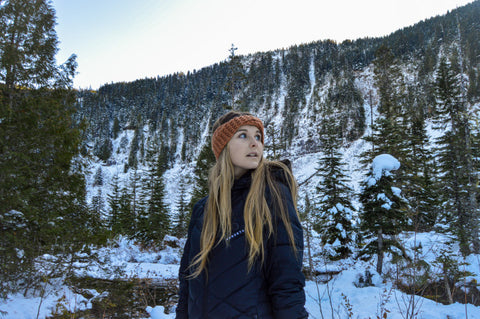 There are 5 things to look for: heating element, style and fit, comfort and convenience, pocket's design and battery lifespan.
1. Heating Element
When shopping around for heated vests, keep in mind that the most commonly used heating element materials are carbon fiber heating wire and metal fiber composite wire, with metal fiber composite wire being better than carbon fiber heating wire. In addition to being excellent at generating and distributing heat, they are highly flexible, resistant to pulling, and bending, and have an exceptionally long life. Carbon fiber heating vests and metal fiber composite heating vests can also be washed in the washing machine on a gentle cycle. Therefore, it is highly recommended choosing heating vests made of carbon fibers.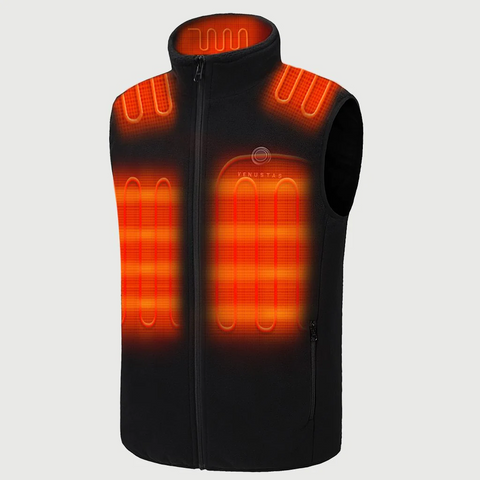 2. Style and Fit
While most people don't buy heated vests to make a fashion statement, it's also critical to choose a style that makes you feel comfortable. Thankfully, heated vests come in a variety of styles and can be customized to suit your needs, so there's bound to be a style option that suits you. In addition to choosing a vest that suits your aesthetic, you should also take a close look at the sizing chart. This will help you to ensure you're finding the right fit. A well-fitting heated vest makes a difference. When a heated vest fits well, it prevents heat from escaping through the collar, sleeves, and waistline.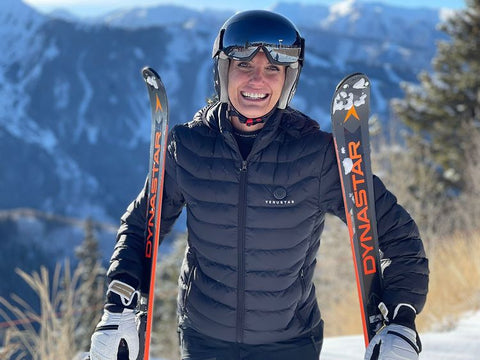 3. Comfort and Convenience
Some heated vests generate continuous heat to keep you warm, but their bulky batteries and stuffy materials can detract from the comfort of the experience. So when picking out a heated vest, we should also make sure that the batteries won't interfere with any activities you plan to do. If you're a winter sports enthusiast, it's advisable to avoid clothing with bulky batteries. So opt for an an electrically heated vest that is very lightweight and has a handy battery pocket.
4. Pocket's Design
In order for the heated vest to be effective, it must have enough pockets and be reasonably sized. Depending on your needs, you may want to look for a heated vest with the correct pocket layout. For example, a field worker may need multiple pockets to save time traveling to a tool bag when on the job site. On the other hand, if you just want a heated vest for warmth, the standard two-pocket configuration will do just fine.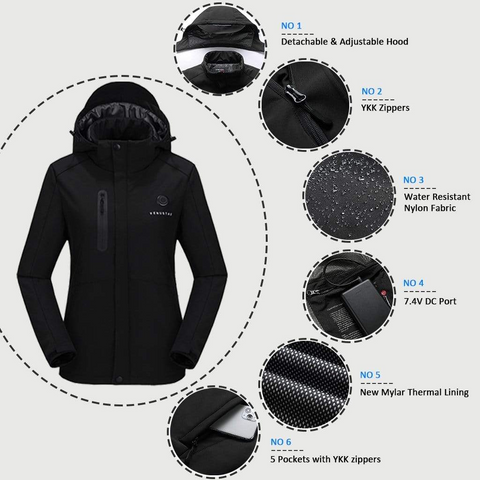 6. Battery Lifespan
Battery life is one of the main factors to consider before choosing a heated vest. Some electric vests have high battery performance and a large capacity. This means that they can supply power for a whole day at a time. However, some heated vests can only provide heat for a few hours. The former is a must-have for campers spending a full day in the backcountry. The latter may be more suitable for daily wear. In any case, be mindful of how long your battery will last. Also, try to choose a vest with a long battery life and a long lifespan.
Conclusion
The electric vest heats up quickly and keeps warm for a long time. It can also keep people warm in extremely cold environments. Heated vests have grown in popularity in recent years. But from a certain point of view, an electric vest can be regarded as a special electrical appliance. Therefore, when buying, we should pay attention to the purchase of branded, high-quality vests, and also pay attention to the heating elements, style and fit, comfort and convenience, pocket's design, battery life, and other details of the heated vest, so that we can choose the cozy, warm one that suits us.
Follow us on Facebook and Instagram.
Join our Group on Facebook to get more discount information on Venustas.
Read Venustas heated jacket manual:
---