What Is a Battery-operated Heated Jacket? [2023 Comprehensive Guide]
"It's the most amazing jacket I have ever bought. It uses a battery to provide warmth as the heated blanket. I felt like the warmth always embraces me when I tried out this heated jacket."
With the development of several years, it's a trend that heated gear gradually has changed the way of looking for warmth on cold days. In the past, people used to drill wood to make fire, protecting themselves from the cold weather. Now it's different because heaters make warmth more accessible. And the appearance of heated jackets starts to instead of many layers of clothing.
Heated jackets are one type of fantastic clothing that can generate heat and adjust warmth by itself. Battery-operated is the most striking feature. In this passage, we mainly lead you to have a comprehensive understanding of this particular feature.
What's a battery-operated heated jacket?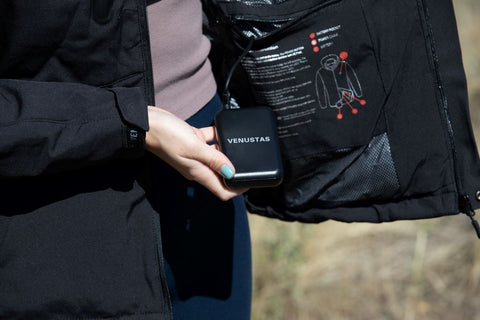 It's easy to understand. Battery-operated system means heated jackets use batteries to heat up the heating elements and distribute heat to the body. The idea of battery heated jackets comes from life. As we can find, some people always complain they need to wear heavy clothes to keep themselves warm and the warmth is not long-lasting. So, manufacturers try to equip a heated system in a jacket to make comfortable warmth accessible to everyone. Users plug the battery into the jacket and press the button, the warmth can quickly cover the core area, like the chest, mid-back, and shoulder.
How to choose a heated jacket battery?
Battery type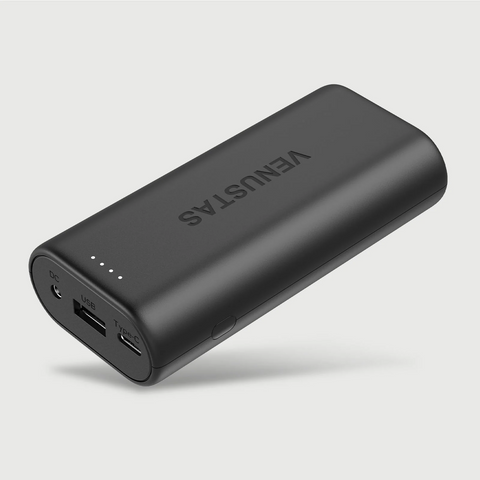 Different heated jackets are packed with different types of batteries, and lithium-ion batteries are commonly used. Lithium-ion batteries feature some awesome advantages: high energy density, lightweight nature, quick charging time, and rechargeable capability.
Battery capacity
Battery capacity mainly determines the battery charging time and running time. Normally, a larger capacity can provide longer heating time. But that's not absolute because the battery voltage needs to be considered.
Battery voltage and output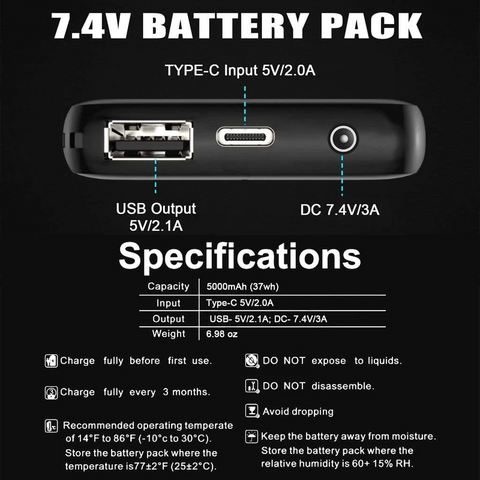 Most heated jackets have a different number of heating elements because of the different voltages of batteries. For example, 5V batteries can heat 3-4 heating elements and 7.4V can power 5-6. Also, battery output can affect the battery delivery performance. For example, DC output can provide higher power than USB output.
Running time
It's essential to consider the running time of batteries, especially for those who always wear a heated jacket outside. Also, the running time is affected by the heating level. If the heated jacket is adjusted on low setting, the battery can work for long hours.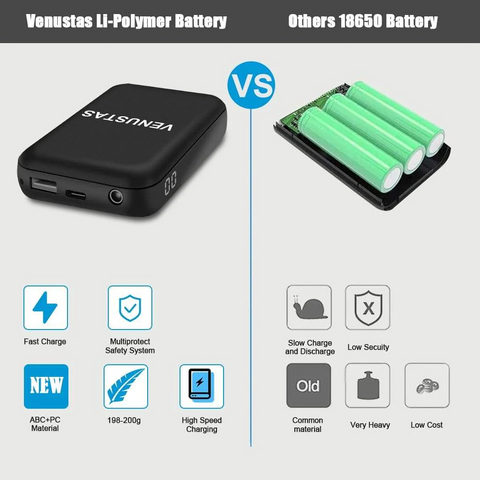 Safety features
A certified battery built with safety features is an important consideration, like overcharge or discharge protection.
Different types of Battery-operated Heated Jacket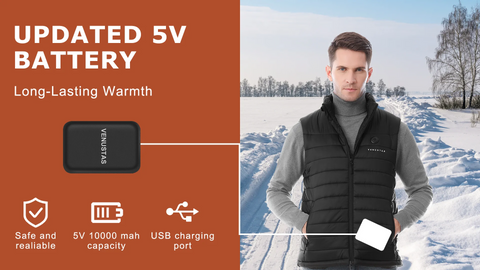 This heated vest for men use a 5V battery to heat up 4 carbon fiber heating elements. These heating panels are placed in the core body areas, like left & right abdomen, mid-back, and collar. And wearers can quickly feel the warmth when they press the power button. Moreover, this vest adopts water-resistant nylon fabric and new mylar thermal lining to enhance its functionality and practicality. People can wear it in cold rainy or snowy weather.
Vensutas 7.4V Women's Heated Jacket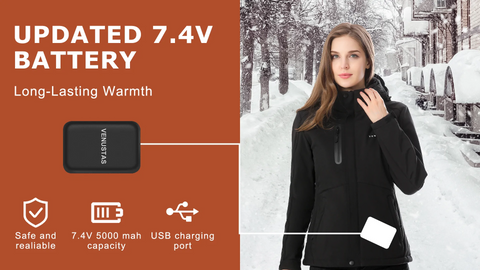 It's a 7.4V heated jacket that features 5 carbon fiber heating elements to generate consistent and comfortable warmth. Also, these heating elements are 30% larger than others, which guarantees the warmth can cover more of the body. And the polyester shell is water-resistant and wind-resistant, which protects you from unpredictable weather. In addition, other detail designs are considerate, like detachable hood or YKK zipper. It's a great option for stylish women who would like to maintain their style and keep body toasty in winter.
Milwaukee 12V Men's Heated Jacket
This men's heated jacket adopts a 12V battery and 5 carbon fiber heating elements to build a outstanding heated system, which can generate heat faster and distribute heat more evenly. And the 12 V battery can work up to 12 hours, which can provide all-day warmth for those who stay outdoors for a long time. To maximize the warmth, the jacket adopts a superior inner lining to provide more efficient heat transfer to the chest. 
 

Battery type

Capacity

Voltage

Output

Running time

Heating elements

 

Lithium-ion battery

10,000mAh

5V

2 USB output

Up to 8-9 hours

4 carbon fiber heating elements

Vensutas 7.4V Women's Heated Jacket

 

Lithium-ion battery

5,000mAh

7.4V

1 USB output

1 DC output

Up to 8-9 hours

5 carbon fiber heating elements

Milwaukee 12V Men's Heated Jacket

 

Lithium-ion battery

Not specified

12V

Not specified

Up to 12 hours

5 carbon fiber heating elements
Conclusion
All in all, battery-operated heated jackets provide a convenient way to keep your body toasty, even if you live in the coldest place. With a battery-operated system, a heated jacket enables us to feel warm quickly and adjust the warmth by us.
Follow us on Facebook and Instagram.
Join our Group on Facebook to get more discount information on Venustas.
Read Venustas heated jacket manual:
---