Venustas Heated Jacket VS ORORO Heated Jacket
Heated apparel, the enemy of cold winter, has become the focus in our life. It provides us with a variety of options, like heated jackets, heated hoodies, heated vests, heated gloves, etc. All possess extraordinary performance in warmth and comfort to receive unprecedented attention. Most people maintain an idea that heated apparel gives them brave to go outside in freezing winter. That's what I cannot agree any more.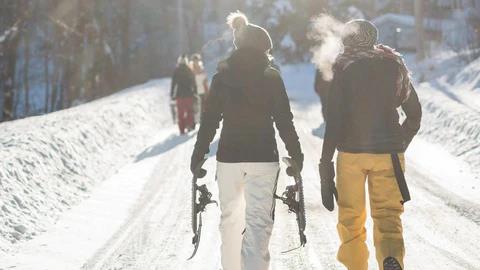 I'm an outdoor enthusiast who likes to catch enjoyment and excitement in different kinds of outdoor activities. No matter camping, hiking or skiing, fresh air and desirable freedom leads me to enter a new world. But one thing that troubles me is that I cannot withstand the bitterly cold to enjoy my outdoor life. So, heated jackets featuring a lightweight design and comfortable warmth attach my attention. Combined with the customer feedback, I select Venustas and ORORO to make a test. Below the article guides us to grasp more information.
Venustas, a lively brand, is specialized in heated apparel with reliable quality and excellent performance. It's a successful brand that has taken a place in the industry, which leads it to insist on the mission to develop any accessible product to customers. Glancing at the market, Venustas is known for its advanced heating technology and considerate design. That inspires me to buy a women's 7.4V heated jacket.
It's a heated jacket that wins my heart owing to its remarkable performance. First of all, it's lightweight though it does make me feel substantial, which releases the heavy burden while maintaining the thermal conductivity. Secondly, the warmth covers my body in seconds because of the 5 carbon fiber heating elements. Besides that, it includes a 7.4V battery containing 10 working hours at low level, which brings me to have a nice sleep in winter camping. Most importantly, the best part is the hood design to make me look stylish and protect me from wind or winter.
ORORO is also a heated apparel brand that contributes to providing warmth against cold weather. Starting in 2015, ORORO has successfully made great achievements in the industry, which promotes it to develop the product lines and bring the best services to customers. With the recommendation of a blogger, its classic heated jacket gets my approval.
This women's heated jacket comes with a water-resistant shell and thermal lining, which enables me to enjoy freedom on snowy days. That allows me to get rid of the wet issue in winter climbing. Moreover, the included battery not only can provide long warmth but also has two USB ports to charge the apparel and mobile phone at the same time. It's a perfect pick for some outdoor activities that require you to spend several days in the wild. But it is only designed with 3 heating elements while Venustas heated jacket has 5 heating elements.
Comparison
 

Heating element

Shell

Lining

Battery

Care

Price

5 carbon fiber heating elements

100% polyester

New sliver mylar

7.4V battery(5000mAh)

Machine washable

$199.99

3 carbon fiber heating elements

93.5% polyester, 

6.5% spandex

 

100% polyester

7.4V battery(4800mAh)

Machine washable

$209.99
Conclusion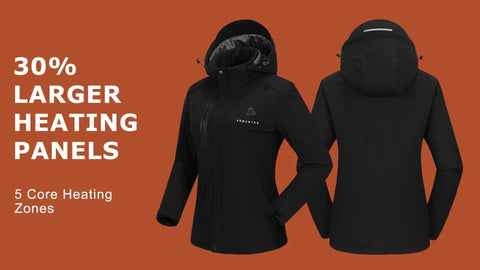 Venustas and ORORO both are committed to making a lead in the heated apparel industry with the best products and services. In the process of review, Venustas women's heated jacket is better than ORORO. Although both craft polyester fabric to enhance the water-resistant performance, Venustas guarantees more warmth to core body areas because of more heating elements. Besides that, Venustas has a price advantage to promote my shopping desire.
In a word, I prefer Venustas women's 7.4V heated jacket. Believe it would be my best companion this winter!
---