Fun Things to Do When Camping with Friends
"I am responsible for planning activities for the camping trip this weekend. But it is not an easy thing because I hope my friends all could enjoy the excitement of camping. Do you know what to do when camping with friends?".
In our life, some of us always complain about how little time we had to spend with our friends since we have to be busy with work schedules, family responsibilities and other demands. Over time, we will lose precious friendship. To try to avoid this, it is crucial to take your time to  mingle with friends. Camping is a great way for friend gathering, which enables you can share friends with everything like joys and sorrows. But sometimes the embarrassment overrides the whole trip without some interesting camping activities. To help, here we make a list of fun things to do when camping for you.  
Have a great camping cooking
For camping, most people are more likely to cook by themselves in the wild. It not only makes them enjoy the fun of cooking but also brings a sense of accomplishment.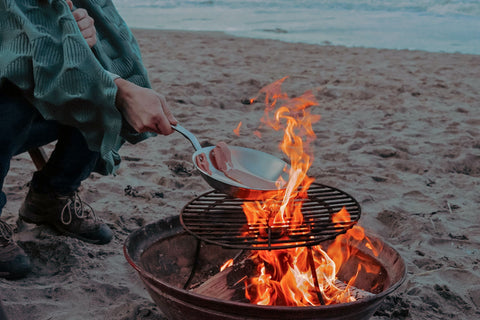 Cooking alone is a tough task, but it is different when cooking together with our friends. Everyone involving in the camping engages in the process of cooking, which is conducive to maintaining the relationship between them in a harmonious atmosphere. Maybe you know nothing about cooking, but it is meaningful to participate in cooking with your friends, no matter whether the taste of the food is good or bad. Most importantly, sitting together, eating and laughing to indulge in the precious moment is a delight.
Sing and dance by the campfire
When comes to camping, most of us long for singing and dancing by the campfire to embrace happiness and freedom.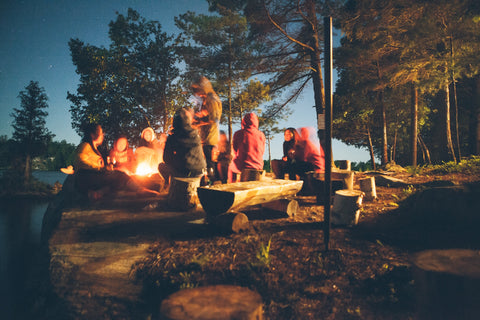 Most campers maintain an idea that singing and dancing by the campfire greatly entertains every camping partner. Just imagine that you and your friends sit around the campfire, sing and dance, chat and laugh. What a rare and pleasant moment it is! The campfire lights up the sweetest moment that enables everybody temporarily to get rid of all troubles and burdens. The happiness reflects on their faces and eyes to create an unforgettable camping night. The wonderful songs hanging over the camping night deeply touch the heart.
Take a short hike
It is boring to lounge in a camping chair or lie in a tent all day. Camping is also an ideal approach to get away from the hustle and appreciate nature. So, let's start a short hike with our friends.
Most people are apt to go camping in the wild like forests or mountains, allowing them to closely enjoy the beauty of nature. In camping, taking a short hike with your friends not only get a better knowledge about various kinds of wild plants and animals but also inspires you to cherish the friendship. Moreover, it is essential to take a camera to capture the natural landscapes and record the treasure moment with your friends.
Enjoy star gazing
Those who are enthusiastic about camping say that one of the top things to do when camping is stargazing, as a magical way to explore the natural world.
We must recognize that there's nothing more comfortable than lying on a chair or grass to look at the star with your friends. It is a romantic moment to appreciate the miracle of the nature when counting and searching for shooting stars together. In addition, if you go camping to enjoy the beauty of the star in fall or winter, don't forget to pack some thick clothes like a heated vest in case of the temperature drops at night.
No matter how busy you are, remember to squeeze time to bond up with your friends. Now, pick the above great ideas to start your best camping trip with your friends!
Follow us on Facebook and Instagram.
Join our Group on Facebook to get more discount information on Venustas.
Read Venustas heated jacket manual:
---