The Best Gift For Grandparents 2021
What Is The Best Gift for Grandparents?
Grandparents feel cold all the time. They will complain about the cold while we feel warm and comfortable. Though there are plenty of reasons why older people are sensitive to the cold, and there might be some treatments or other physical methods to help them, you will still need to find a way to solve the problem for them- Help the elderly get warmth immediately.
Under this circumstance, the heated apparel is a perfect choice. You will feel the heat delivered to your core body within seconds after you put it on and press the button. And you don't need to worry that this item is hard to operate. All you need to do is insert the power cable into the battery port, press the button, and then enjoy the toasty feeling. Moreover, if your grandparents are outdoor activities lovers, who go hiking, camping, walking frequently, they will definitely enjoy the water-resistant shell, long-lasting battery and adjustable heating temperature.
What Is Heated Clothing?
Unlike regular winter outerwear, the heated clothing is lightweight, thinner, and can provide extra warmth without extra layers. With an excellent heating system inside, a self heating outerwear will warm you up in seconds and keep you warm for up to 8 hours. For those who are suffering from the freezing winter, heated clothing will provide additional and long-lasting warmth.
Venustas Heated Jacket Classic
Upgraded with a tailored design and breathable fabric, Venustas self heating jacket provides more comfort for the aged who loves outdoor activities. Water-resistant and windproof exterior keeps them warm and dry in unpredictable weather conditions.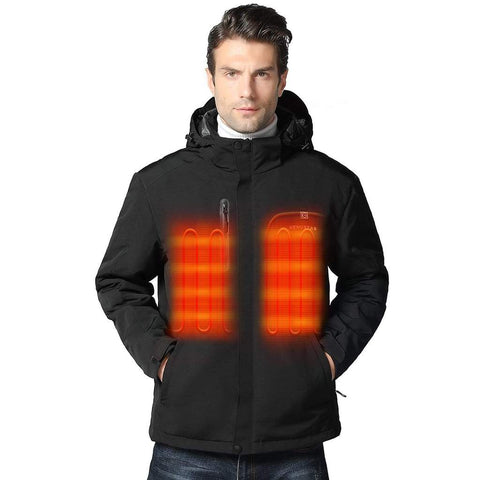 The best heated jacket that can provide superior comfort and warmth with breathable fleece fabric and a tailored design. It's practical, functional, and effective when you need it! Perfect for active grandpa and grandma.
Filled with light and soft white duck down, down electric heated jacket provides exceptional warmth & breathability while being lightweight. This puffy, cozy heated winter jacket can be a great companion for outdoorsy grandparents in cold winter.
Crafted with an ultra-soft fleece fabric, which can trap the heat and protect the aged from the cold, this electric heated vest delivers warmth and maximizing breathability.
Venustas electric heated vest provides the warmth the ole people need when the weather gets cold. This machine-washable vest, worn alone or paired with a lightweight jacket, is water-resistant and windproof. Best companion for outdoor activities!
When it comes to old people, they usually have cold fingers, too. So a pair of gloves is essential for them. For the cold fingers, Venustas heated gloves can't be missed. The external layers of the Venustas heated gloves are made of 35% lambskin and 65% polyester, which are breathable, water-resistant, and windproof. With the internal parts that include 133g lightweight and ultra-soft PrimaLoft cotton and the heat elements, this pair of gloves ensures superior warmth for you.
Selecting the perfect gifts for elderly friends and family members doesn't have to be difficult as long as you want to solve problems for them. Use the list of ideas above for inspiration—and make a senior feel special!
Follow us on Facebook and Instagram.
Join our Group on Facebook to get more discount information on Venustas.
Read Venustas heated jacket manual:  
---