Are Heated Jackets More Expensive than Down Jackets?
"My mother always said the cold is extreme when she lives in Toronto. And I would like to buy a heated jacket or down jacket for her. Which one is better? It seems like heated jackets are more expensive."
Jackets are what we wear to keep our bodies warm in cold weather. And one of the most popular options is down jackets thanks to the warmth and durability. It's the versatile outer layer that people choose to match shirts, sweaters, and dresses. Even in the era of emerging of heated gear, down jackets are still the ideal outfit on most occasions.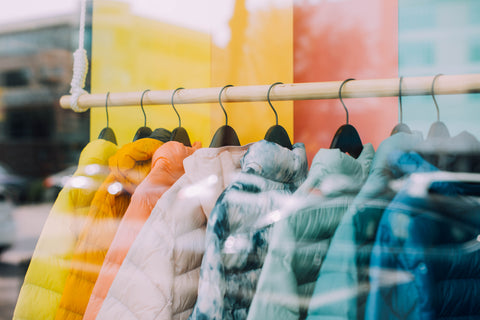 Heated jackets are developing in recent years. It increasingly become the alternative option for those who prefer quick-warmth and lightweight wearing experience. But it doesn't mean the down jackets lose their value. It seems both could beat the cold effectively. So, what's the main difference between them? Yeah, the most noticeable thing is the price.
Are heated jackets more expensive than down jackets?
There is no denying that heated jackets cost more than down jackets. While we look at the market, it's easy to find that heated jackets range in price from $100 to $300, and even over $500 in the high-end market. By contrast, the price of a down jacket is somewhat cheaper, varying from $50 to $150. So, why there is a price gap between them? And does it mean the heated jacket are better?
It's a battery-powered jacket designed to beat the cold for those who always engage in cold-weather sports and outdoor activities. Compared with ordinary jackets, heated jackets use heating technology to provide comfortable, quick, and adjustable warmth. And the heating elements are typically made of conductive materials, like carbon fiber or graphene. Also, other clever designs like temperature settings require sophisticated technology. All these increase the cost of heated jackets and finally could lead to the high retail price.
Down Jackets
A down jacket is one type of outerwear filled with soft and warm feathers to prevent heat loss and maximize warmth. That's to say, down jackets depend on insulation layers to provide warmth to the body. Without using any technology, its cost is generally lower than heated jackets. And the price of down jackets is different because of the down fill power and insulation material. Normally, if the down fill power is up to 90%, the price is higher.  
Heated Jacket VS Down Jacket
From the above discussion, we have already known that heated jackets are normally more expensive compared to down jackets. So, maybe some people simply think heated jackets are better due to their high cost. Well, we don't agree with that. Both options have their advantages.
Warmth.
Both are designed to challenge the cold weather though the source of warmth is different. A heated jacket adopts heating elements and a battery to generate heat to core body areas while wearers try it on. Also, the warmth is adjustable with the temperature setting, allowing users to enjoy the perfect level of warmth.
On the other side, down jackets have always been known for exceptional insulation layers to keep the body warm on cold days. The filled feathers are normally made of ducks and geese, which are soft and warm to let the wearer feel they're wrapped in a comfortable blanket rather than a harsh environment.  
Both are known for warmth. If you always live in a cold place all season, a heated jacket is a great option. Instead, you can choose a down jacket while the weather is not harsh.  
Comfort
Heated jackets and down jackets focus on optimal comfort, especially in harsh winter conditions. Different people have different views on comfort. Most users like the clever designs of heating jackets because they think that these deigns highlight the comfort and functionality, like adjustable heating setting or waterproof outer layer. On the other side, some people prefer the lightweight, soft, and warm insulation of down jackets because they don't like to carry the battery.
No matter which one you pick, both could bring a comfortable experience for you. Just pick any jacket by your preference.
Durability.
Durability is what we always focus on when we purchase something. Down jackets typically are durable if the wearer takes good care of them. But one of the issues is that it could not warm as it used to after washing it several times or using it for many years. Also, heated jackets are reliable and can last for many years with proper care. If the heating elements and battery don't work, the wearer can wear it as a traditional jacket.
Conclusion
All in all, heated jackets cost somewhat higher than down jackets because of the heating technology and other human-centered design. And the investment to a heated jacket is worthy, especially for those who are afraid of cold or live in an extremely cold place.
Follow us on Facebook and Instagram.
Join our Group on Facebook to get more discount information on Venustas.
Read Venustas heated jacket manual:
---