Are Heated Jackets Good for Climbing Snow Mountains?
Winter mountaineering provides an opportunity to engage with the mountains, and it requires preparation and agility, even for seasoned climbers. One of the most daunting tasks is choosing attire. The right warmth and rest are imperative during the physically taxing phases of the ascent. If you have no clothing that is appropriate for each expedition or climate, please read this article. The purpose is to introduce heated jackets to keep you warm during climbing snow mountain.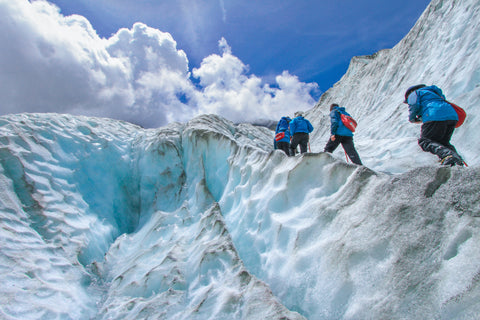 Are Heated Jackets Good for Climbing Snow Mountain?
For maximizing warmth when climbing snow mountain, it is advisable to wear a high-capacity battery-powered jacket that can offer long-lasting comfort for extended periods.  
Typically, carbon fiber or graphene heating zones generate heat across the human body core(chest, back, shoulders, pockets, etc.), keeping warm in cold conditions. Apart from their ability to generate high levels of heat, powerful electric jackets often offer extensive storage capacity, and the inclusion of built-in USB ports enables you to easily charge other smart devices.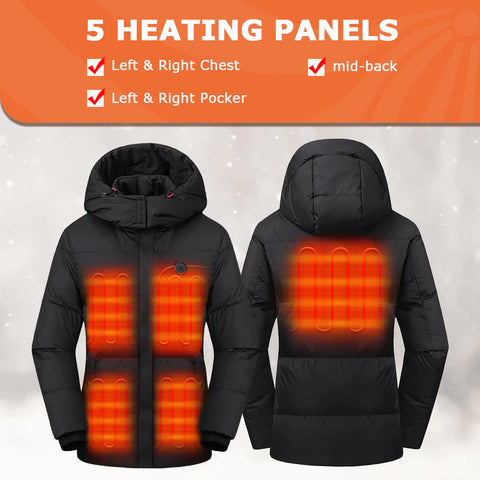 In addition, these jackets typically are equipped with numerous pockets, providing you with ample space to store small items such as your watch, wallet, or phone when climbing. Furthermore, their soft and lightweight inner linings and outer shells ensure that they are not only comfortable to wear, but also lightweight to wear, even on challenging climbs. These heated jackets also possess water-resistant properties, allowing you to continue moving forward regardless of the weather conditions. Additionally, their wind resistance feature offer overall protection against the impact of strong winds.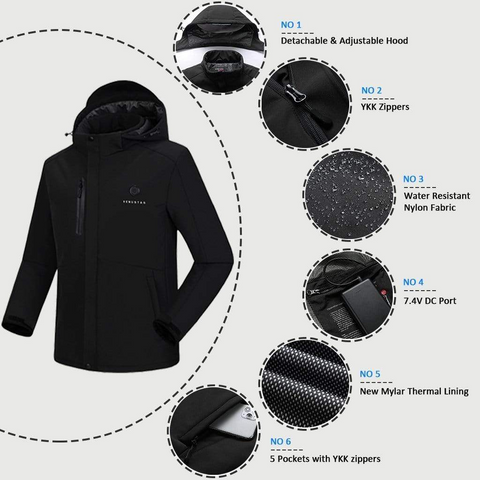 Comparison of 3 Kinds of Heated Jackets
We shall proceed with a comparative analysis of 3 types of heated jackets made of varying materials across four dimensions, like the number of heating zones, material quality, battery performance, and wind or water resistance.
Heating Numbers

5

Material

Outer:  Nylon

Inner: 90% White Duck Down and 10% White Duck Feather

Battery Life

3-4hrs on high, 4-5hrs on medium, 8-9hrs on low

Water-resistant&Windproof

Yes
The winter season requires dependable protection, and the water-resistant nylon fabric shell proves to be an excellent shield against harsh weather conditions. Additionally, the 90% white duck down and 10% white duck feather guarantees exceptional warmth during hikes across difficult terrain and varying elevations. Moreover, a drawstring for you to adjust the hood ensures that the head and ears can receive extra warmth and protection to combat snowy, windy, and cold rainy days, making it a reliable option for both day hikes and overnight camping trips.
Heating Numbers

5

Material

Outer: Canvas Shell

Inter: Polyester Lining

Battery Life

3-4hrs on high, 4-5hrs on medium, 8-9hrs on low

Water-resistant&Windproof

Yes
 For hikers seeking warmth and flexibility, a heated canvas jacket is an excellent choice. The heated jacket features water-resistant and windproof abilities to effectively protect wearers in inclement weather. The durable canvas and soft polyester lining ensures optimal comfort, allowing for free movement of the arms during outdoor activities. This added convenience is highly valued by many hikers, especially those who are favor to climb snow mountain, for that it can offer unparalleled comfort when traversing hazardous terrain.
Heating Numbers

5

Material

Outer:Water-Resistant Shell

Inner: Heated Fleece Jacket

Battery Life

3-4hrs on high, 4-5hrs on medium, 8-9hrs on low

Water-resistant&Windproof

Yes
Are you in need of a multifunctional heated jacket for your snow mountain climb? Venustas 3-in-1 heated jacket offers versatility with a hooded water-resistant shell and an inner fleece jacket that can be worn together or separately. It provides the most wearing experience in different temperature. When climbing a snow mountain, the wind and snow can be harsh, so it is essential to consider the equipment that is both water-resistant and windproof. A electric jacket addresses these concerns, providing comfort and protection during any cold weather outdoor activities, such as climbing snow mountain, working, playing, and adventuring, etc.
Conclusion
When ascending a snow-covered mountain, multiple layers can prove to be cumbersome. Therefore, it is advisable to wear a heated jacket, which effectively keep you warm even in frigid weather conditions while traversing both uphill and downhill terrains.
Follow us on Facebook and Instagram.
Join our Group on Facebook to get more discount information on Venustas.
Read Venustas heated jacket manual:
---