What's the Carbon Fiber Heated Jacket?
"I love your heated jacket. It heats up in seconds and distributes heat evenly to my core area. What are the key elements to make it extraordinary?"
"It's the carbon fiber heating elements."
Technology changes our lives. It revolutionizes the way we live to provide better convenience. Heated jackets are one of kind fantastic innovation to change the way that we seek warmth in cold weather.
We always wear down jackets layered with many clothes to keep our body toasty. However, the bulky layer could restrict movement and cause discomfort, especially for outdoor people. So, heated jackets come in to fix this issue. In this passage, we especially explore the heating technology behind heated jackets and take a close look at the top pick.
What's carbon fiber heating technology?
Typically, heated jackets use carbon fiber heating technology to generate heat. The carbon fiber heating elements are safely woven into the clothing. In the press of power button, the battery transfers the electric current to heating elements, and then these fibers can heat up to provide warmth.
Carbon fiber is made of carbon atoms, which is a lightweight and strong material. This material is commonly applied in a range of fields, like the automotive industry, aerospace, agriculture, clothing, and so on. For clothing, these fibers are usually made from carbon fiber heating elements woven into the fabric to generate heat. There are many types of clothing using this technology, including heated jackets, heated vests, heated hoodies, and heated gloves. 
Why use carbon fiber in heated jacket?
Carbon fiber heating technology is the key for heated jackets. In the following, we will take a close look at the features and advantages of heated jackets.
Thermal conductivity
Carbon fiber has a high electrical resistance. When the electric current passes through the heating elements, it could encounter resistance to heat up these elements. Also, this feature enables these fibers to heat up in seconds and distribute heat to the core body area. For example, our carbon fiber heated jacket with a 5000mAh battery can generate heat in 3-5 seconds when pressing the button.
Lightweight
Because of the chemical composition and microstructure, carbon fiber is a thin material. It has a lower density and is almost 5 times lighter than the steel. That's why it is commonly used in heated clothing. Most of us find it's difficult to notice these heating elements when we try a heated jacket.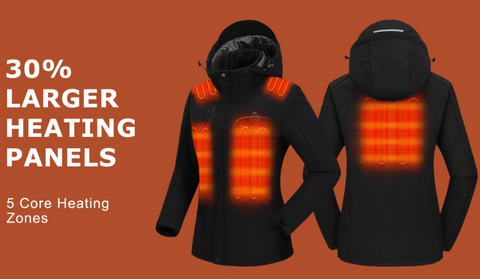 Stable performance
Carbon fiber features excellent tensile strength falling into the range of 2,000 to 7,000 megapascals (MPa). It ensures that these fibers are not easily out of shape and can maintain stable performance over time. Even if you put the heated jacket in a washing machine, it could not damage heating elements.
High Flexibility
Carbon fiber heating elements are flexibly placed on the core area of the body, like the chest, shoulder, back, or neck. These fibers have higher flexibility without compromising the softness of clothing fabric. It can maintain a great outlook of the apparel and ensure a comfortable wearing experience.
Our best carbon fiber heated jacket
Venustas Men's 7.4V heated jacket
Shell: 100% polyester | Lining: New SILVER mylar thermal | Heating elements: 5 carbon fiber heating elements | Battery: 7.4V/5000mAh battery | Heating setting: 3(High: 130°F/55°C |Medium: 113°F/45°C | Low: 95°F/35°C)  | Care: machine washable
Keep toasty and nice with our classic heated jacket for men. This jacket uses carbon fiber heating technology to provide warmth. 5 carbon fiber heating elements are strategically placed on the left & right chest, left & right shoulder, and mid-back to distribute heat quickly and evenly. Also, these heating elements are unnoticeable, which ensure a lightweight wearing experience. With a 7.4V battery, these fibers can maintain the heat for up to 8-9 hours.
Venustas Women's Heated Fleece Jacket 7.4V
Shell: 100% polyester | Lining: Fleece | Heating elements: 5 carbon fiber heating elements | Battery: 7.4V/5000mAh battery | Heating setting: 3(High: 130°F/55°C |Medium: 113°F/45°C | Low: 95°F/35°C) |Care: machine washable
This fleece heated jacket for women is lightweight, soft, and comfortable. It is equipped with 5 thin carbon fiber heating elements to provide target warmth without increasing the burden on the body. And these heated panels are 30% larger than other options on the market, which can challenge the coldest weather. Also, the 100% polyester shell is water-resistant to shield you from rain or snow.
Carbon fiber heating technology can revolutionize the way to keep toasty in cold weather. If you're afraid of cold even if you wear too many clothes, a carbon fiber heated jacket is your best choice.
FAQs
Are carbon fiber heated jackets safe?
Yes, they are safe to use. Carbon fiber has remarkable thermal conductivity, lightweight structure, high flexibility, and excellent tensile strength.
Can carbon fiber affect the environment?
Carbon fiber is environmentally friendly. For example, carbon fiber heater can keep you warm without the need to turn on the thermostat at home. This can reduce the energy cost and protect the environment.
Follow us on Facebook and Instagram.
Join our Group on Facebook to get more discount information on Venustas.
Read Venustas heated jacket manual:
---