Are Heated Gloves Any Good?
Winter's chill can be harsh, especially on your extremities. Heated gloves promise to keep your hands toasty, but are they as good as they claim? In this exploration, we'll focus on the topic of heated gloves, examining their effectiveness and comfort. And we also share our top picks after rigorous testing and answer some common questions about these winter gear.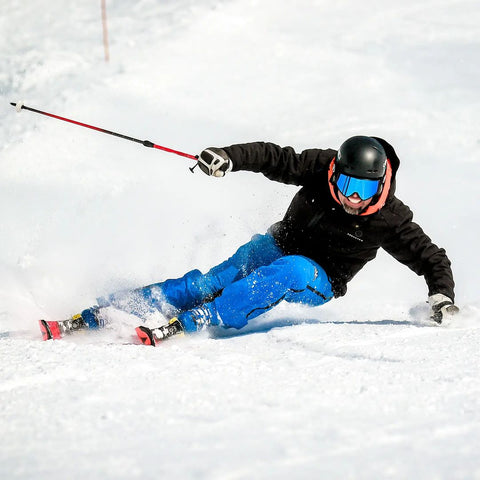 Winter poses biggest challenge to hands. When it comes to keeping your hands warm, gloves are an absolute necessity. But do heated gloves really work?
For heated gloves, one of best parts is their extended battery life, providing hours of continuous use on a single charge. With three adjustable heating settings, you have the power to customize your warmth. Whether you prefer a gentle warmth or full-fledged toasty fingers, it's all at your fingertips.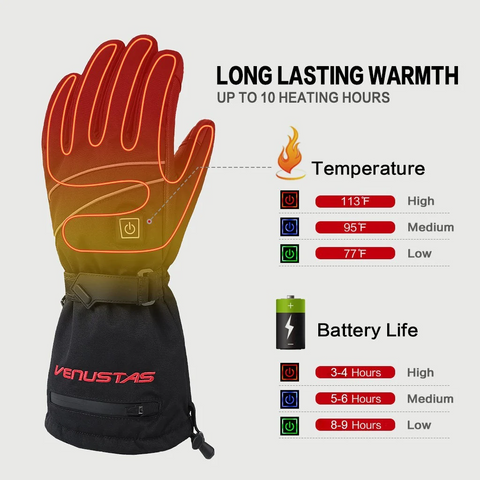 These heated gloves are a game-changer for winter sports enthusiasts, hikers, and hunters alike. They ensure your hands remain comfortably warm, even in sub-zero conditions, enabling you to fully relish your favorite outdoor activities. Professionals working outdoors or in cold environments, such as construction workers or photographers, also swear by heated gloves to stay both productive and comfortable.
All in all, heated gloves are good for us. They not only effectively keep your hands warm but also offer a perfect level of comfort. Whether you're an outdoor enthusiast, a cold-weather worker, or anyone seeking cozy relief from the winter's bite, a pair of heated gloves is an ultimate companion.
As an outdoor and adventure lover whose hands and feet get cold easily, I feel as if I've spent an inordinate amount of time and money trying out a wide range of gear, such as heated apparel, heated warmer, and heated gloves. Here are some of the best-heated gloves I've found for a variety of outdoor activities:
Easy of Use: 5/5 | Heating: 3/5 | Design: 4/5 | Comfort:4/5 | Value: 5/5
Why We Love It
water-resistant & windproof shell

heating elements

cover your 10 fingers

a

nd

t

he back

o

f

t

he hands

adjustable wrist velcro

touchscreen compatible

d

esign

anti-lost buckle & labor-saving one-pull closure

reflective strip makes you can be saw at dark light
What to Consider
These gloves are so comfortable and functional that some users opt to wear them without the batteries. The fit is comfortable, and the grip is excellent, making them ideal for bike and motorcycle use. The batteries come with two USB A ports, so you can even charge your phone from your glove in an emergency.
The heat is consistently even, although it's advisable to pre-warm them when it's extremely cold. Even in sub-zero wind chills, these gloves will keep your hands pleasantly warm. They might not get scorching hot, but they offer a gentle and perfect warmth, making them an excellent choice for anyone who struggles with cold hands during the winter.
Easy of Use: 5/5 | Heating: 3/5 | Design: 4/5 | Comfort:4/5 | Value: 5/5
Why We Love It
highly durable & sturdy outer shell

water-resistant heated liner

s

high-density heating area

touchscreen compatible

worn in 3 different ways
What to Consider
The outer shells are a little bulky.
The 3-in-1 heated gloves from Ororo come with a preheat feature, taking about five minutes to reach the desired temperature. In my testing, these gloves impressively kept my hands warm from fingertips to the entire hand, even when submerged in ice for a solid 10 minutes. The medium heating setting proved to be just right.
These heated gloves are crafted from polyester with down-alternative insulation, ensuring a soft, stretchy, and flexible fit. The thermal design effectively prevents excessive sweating. While the outer shells might be slightly bulky, the option to wear the liners separately is a plus. Additionally, both the gloves and liners are touch-screen compatible, allowing me to use my phone without the hassle of taking off the gloves.
However, it's worth noting that, like most battery-powered gear, the Ororo gloves aren't machine-washable and require hand cleaning. Nevertheless, I believe these gloves are an excellent choice for various activities such as skiing, winter hikes, snow shoveling, or any outdoor pursuits in cold weather.
https://gobiheat.com/products/vertex-heated-ski-gloves
Easy of Use: 5/5 | Heating: 3/5 | Design: 4/5 | Comfort:4/5 | Value: 5/5
Why We Love It:
steel fiber technology
velcro fit adjustment
mobile touch finger pads
win and waterresistant nylon/leather shell
thinsulate® lined with 100% polyesterliner
What to Consider:
for men, the size runs small.
The Gobi Heat Vertex Gloves boast water- and wind-resistant nylon and leather shells, along with insulated liners featuring steel-fiber technology. These gloves provide dependable warmth for your hands and fingers, making them ideal for extended outdoor activities in snowy or icy conditions.
These heated gloves are highly regarded for their straightforward design. They took only about a minute to reach their maximum temperature, but many users found the medium setting to be the most comfortable. These gloves are perfect for everyday winter outdoor activities such as shoveling snow, motorcycling, and more.
Easy of Use: 5/5 | Heating: 3/5 | Design: 4/5 | Comfort:4/5 | Value: 5/5
Why We Love It:
Heatingelements covers whole back of band & fingers till fingertips
3 adjustable heating levels
Breathablae sheep leather & polyester
Touch sensors on the index finger and thumb
White illuminate strips helps you light up in the dark night.
What to Consider:
They take about five minutes to heat up and don't warm the palms very well.
If you often find your fingers getting uncomfortably cold in chilly weather, the Snow Deer Electric Gloves are your go-to solution. These gloves feature wind- and waterproof shells, sheepskin palms, and cozy fleece linings. The adjustable wrist design not only provides a secure fit but also adds a wind-resistant function, ensuring your cuffs are tightly sealed. The multi-layered design makes them easy to put on and adjust at the wrist.
These gloves are incredibly warm, starting with the palm to spread the heat throughout the entire hand, including the fingertips. They offer the perfect solution for those frosty winter nights and days, catering to individuals dealing with conditions like Raynaud's, arthritis, poor circulation, or stiff joints. With their rechargeable feature, these gloves will guarantee that your hands stay wonderfully warm.
Easy of Use: 5/5 | Heating: 3/5 | Design: 4/5 | Comfort:4/5 | Value: 5/5
What We Like:

rapid heating
eight hours of run time
consistent heat distribution
What We Don't Like
did not perform well during ice test
The Akaso heated jacket takes just 30 seconds to envelop you in cozy warmth once you initiate the heating process. They warm up impressively fast, especially at the top. The heat distribution is quite even across your hands, including those often chilly pinkies. The medium setting hits the sweet spot, providing comfort, and you can imagine that the higher setting would be fantastic for those bone-chilling winter days.
Akaso heated gloves can reach temperatures of up to 140 degrees Fahrenheit and last up to eight hours on low setting. The heated gloves performed well in dry condition and during the heating process, but they did encounter an issue that gloves took on water quickly during our ice bucket test. As a result, we wouldn't recommend these gloves for outdoor activities that involve heavy snow, ice, or rain.
Frequently Asked Questions
Are Heated Gloves Safe to Use?
Yes, heated gloves are generally safe when used correctly. They are designed with safety features like temperature controls and overheat protection.
Can I Wash Heated Gloves?
It depends on the specific gloves. Some heated gloves are machine washable, but others require hand wash.
Do Heated Gloves Require Special Care?
Heated gloves typically require minimal special care. However, it's essential to store them properly, avoid exposing them to extreme conditions, and follow the care instructions to maintain their performance and longevity.
Are Heated Gloves Waterproof?
Not all heated gloves are waterproof, but many are water-resistant, designed to handle light rain or snow. If you need waterproof heated gloves for activities like skiing, look for models specifically labeled as waterproof.
Can I Use Heated Gloves While Operating Touchscreen Devices?
Some heated gloves are touchscreen-compatible, allowing you to use smartphones and tablets without removing the gloves. 
Conclusion
In cold winter, heated gloves prove to be a priceless ally. They provide effective warmth and comfort, elevating the enjoyment of outdoor activities and everyday life in chilly weather. Our comprehensive reviews of the best heated gloves will guide you in choosing the ideal pair to ensure your hands stay wonderfully cozy throughout the winter season.
---