What All Do You Need to Purchase with a Heated Jacket?
Many outdoor enthusiasts enjoy activities such as skiing, hunting, hiking, snowshoeing, and ice fishing in colder weather. However, individuals may find it is difficult to keep warm even with the addition of several layers. Also, heavy clothes can hinder one's concentration and enjoyment in these outdoor activities. The solution to this problem is utilizing battery-powered heated jackets. Such jackets could allow individuals to stay in the great outdoors for longer periods of time, as well as enhance their overall comfort levels.
Since heated jackets have a lot of benefits, would you like to pick one? Well, we'll go over some helpful tips for your purchase.
Looking for Users Reviews
"I bought this for my Mama. She absolutely freezes in the winter. She hasn't used it yet but we both took notice of how well the coat is made. It comes with a wind proof, water repellent layer, and a decent hood, zipper up design to keep out the cold. Besides, it has a slippery material on the inside, so you can wear it over over other clothes easily. And I was so happy with the coat so I ordered myself one! I work outside so this will be great for bitter days." Jenifer J said.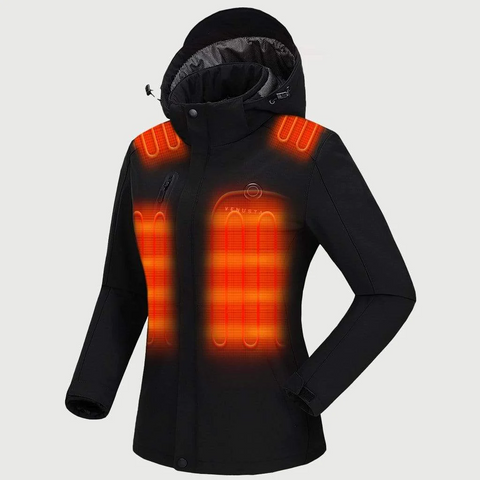 "I purchased a heated jacket because I was traveling New York from the south. It require you have no need to wear many layers of clothing and it preheats very quickly.  It's very comfortable fit. On nights out when they temps dropped well below freezing, I was warm and toasty." Swati Malpani said.
To those with more traditional perspectives, heated jackets may seem like an advanced invention perfectly combining warmth and comfort. A battery heated jacket may be a novel item for those who are used to many layers during cold days. But we can not deny that for those who own one, they will appreciate it when it comes to harsh weather conditions.
Heated Brand Introduction
If you have previously explored heated jackets or you are a newcomer to the concept, it is likely that you have various inquiries that you are contemplating. Next, we will introduce 3 heated apparel brands to you, then you will know their mission, product, features, applicable people, etc.
Venustas. Venustas's mission is to develop accessible products that do not limit us to any environment. Developing in several years, Venustas has successfully made some great achievement. Now its loyalty customers is more than 30,000. It is mainly specialized in heated jackets, heated vests, heated hoodies, and heated gloves. Venustas always stick to using excellent heating elements, reliable material, and safe battery to guarantee the best experience.

Ororo Heat. As a specialized provider of heated apparel, ORORO is dedicated to creating reliable and dependable products that meet the highest standards of quality, safety, and affordability. Ororo also is famous with multi-colour design, its products come in a range of colors, such as white, yellow, blue, gray, dark blue, red, camouflage, olive green and so on, that make them stand out from other brands on the market.
Gobi Heat. Gobi Heat's objective is to provide superior warmth and comfort through its line of heated clothing, including heated jackets, heated vests, heated shocks, heated base layer pants, heated base layer shirts, heated chairs, heated beanies, heated blankets, and heated hammocks and so on, ideal for those who work outdoors or enjoy engaging in outdoor pursuits. Gobi Heat garments deliver ample warmth, ensuring a comfortable and cozy experience, while effectively safeguarding against the chill of cold weather.
Important Things to Focus on When Purchasing
Our comparative study examines three different heated apparel brands. It includes five important criteria, including heating elements, fabric quality, battery packs, battery life, and warranty. Our goal is to provide you with the information necessary to make an informed decision when purchasing a heated jacket.
 

Venusts

Ororo

Gobi Heat

Heating Elements

5

4

3

Fabric

Shell: Fleece

Lining: Polyester

Fill:

90% Down +10% Feather

Shell:

100% Polyester

Outer: Nylon

Inter: Nylon

Battery Pack

7.4V 4800mAh

7.4V 4800mAh

 

7.4V 6500mAh

 

Battery Life

Low: 3hrs

Medium: 5-6hrs

High: 8-10hrs

Low: 3hrs

Medium: 6rs

High: 10hrs

Low: 10hr

Medium: 8hr

High: 6hr

Warranty

1.free 60 day exchange

2.30 days refund

3.1-year limited warranty on battery

4.2-year limited warranty on clothing

1.free 30 day exchange

2.1-year limited warranty on battery

3.3-year limited warranty on clothing

 

 

1.free 30 day exchange

2.90-days limited warranty on battery

3.1-year limited warranty on clothing

 
Conclusion
During the extended winter season, it is important to stay comfortable and warm. A heated jacket is a thoughtful gift for individuals who spend significant amounts of time in cold temperatures, as exposure to sub-zero temperatures can be detrimental to one's health. This is especially true for professionals who work outdoors, as they require a heated jacket to complete their tasks efficiently. We hope you read the above content before you purchasing a heated jacket, making a correct decision.
Follow us on Facebook and Instagram.
Join our Group on Facebook to get more discount information on Venustas.
Read Venustas heated jacket manual:
---