Top Back-to-School Outfit Ideas 2023: Choose the Best Heated Apparel
As the summer heat gradually gives way to the autumn cool, students are getting ready to head back to campus. But this year, why not elevate your style and comfort with heated apparel to instead of your daily clothes? With technology advancing at a rapid pace, heated clothing has become a game-changer, offering warmth without compromising on style. In this blog, we'll guide you to choose the best heated apparel for campus life and present you with five fantastic outfit ideas that perfectly blend fashion with functionality.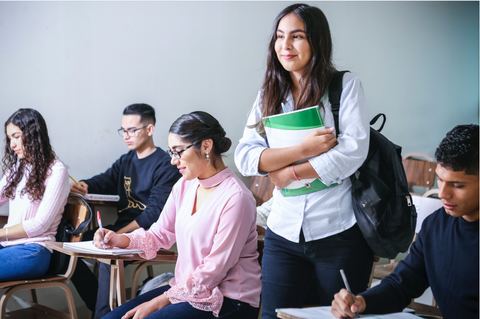 How to Choose the Best Heated Apparel for Campus:
Choosing heated apparel for campus life involves considering a balance between comfort, practicality, and style. Here's a guide to help you make the right choice:
Purpose and Use:
Identify how you plan to use the heated apparel on campus. Will you mainly use it for outdoor activities, long walks between classes, or keeping warm in chilly classrooms?
Type of Apparel:
Heated jackets, hoodies, and vests are common options. Choose based on your personal preferences and the specific areas you want to keep warm.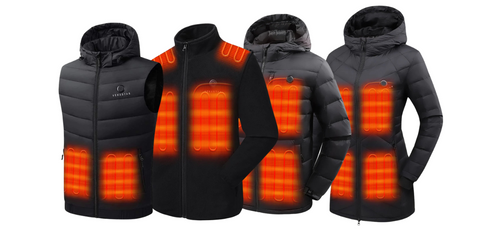 Battery Life:
Check the battery life of the heated apparel. Longer battery life is important for a full day on campus. Make sure it can withstand your regular schedule.
Heating Zones:
Look for heated clothing that has multiple heating zones, especially in jackets or vests. Sufficient and targeted warmth can improve your focus during classes.
Adjustable Settings:
Choose clothing that has adjustable temperature settings. This feature enables you to adjust to varying weather conditions and your personal preferences for comfort.  
Comfort and Fit:
The apparel should fit well and not restrict your movement. Look for options that are lightweight and can easily be worn under your regular clothing.
5 Best Heated Apparel Outfit Ideas:
Staying warm and stylish on campus during colder months is possible with the right heated apparel. Here are five outfit ideas that blend functionality and fashion:
The Classic Scholar Look with Men's Heated Down Coat
Specs: 
Filled with 90% White Duck Down
Water-Resistant Nylon Fabric
5 Heating Elements
3 Adjustable Heating Levels
A versatile heated jacket is perfect for exploring the campus or attending outdoor events. 90% white duck down and 10% white duck feathers provide a comfortable wearing experience. The hood design is a combination of comfort, warmth, and style. It provides enhanced protection for your head and ears in severe weather conditions. You can pair it with cozy pants and sporty sneakers for an active and warm outlook.
Stay Warm on Campus with Heated Jacket With Heating Areas Control Button
Specs:
2 Colors: Blue, Yellow
2 Heating Areas Control Button
6 Graphene Heating Panels
3 Heating Levels
Detachable Hood
Do you want to target a specific area, such as your back or front body? This jacket is designed for men and women and features a new dual-control button. With the double switch, you have the option to warm your back, front body, or both separately. Available in different colors(blue and yellow), this slim-cut design guarantees a comfortable and well-fitted garment that combines warmth with unrestricted movement. You can stay cozy and warm whether you're sitting in the classroom or walking across campus.
Stay Warm in Library with Men's Heated Vest
Specs:
Water and Wind-resistantfabric
6 Carbon Fiber Heating Elements
3 Heating Levels
 A heated vest worn under your coat can keep your core warm while studying for long hours in the library. Six heating areas offer the desired warmth when the temperature drops. The lightweight fabric provides warmth and makes it easy to wear without feeling weighed down. Wear it with a hoodie or wool sweater in the spring or fall.
Casual Men's Heated Fleece Vest for Layering
Specs:
Ultra-soft Fleece Fabric
6 Carbon Fiber Heating Elements
Polyester Lining
3 Heating Levels
Choose a lightweight and breathable heated vest that can be easily layered under any outfit. This ensures that you are prepared for various weather conditions. It's a great choice for winter sports. Fleece fabric traps the heat and protects you from the cold. Layer it effortlessly under a jacket for versatile comfort during campus activities or chilly commutes.
Unisex Pullover Heated Hoodie for Outdoor Enthusiasts
Specs:
Pullover design
No Extra Decorations Added
Soft Shell & Lining
5 Graphene Heating Elements
3 Heating Levels
For sports enthusiast, the pullover design makes this heated hoodie easy to wear and a perfect pick in a hurry. You can wear it for those early morning jogs or outdoor study sessions. Whether you are studying or participating in various activities, it won't hinder your movement.
Conclusion:
Back-to-school season is the perfect time to refresh your wardrobe and incorporate innovative solutions like heated apparel. By considering your campus environment, mobility needs, and personal style, you can select heated clothing that seamlessly integrates into your daily routine. With our five outfit ideas, you can stay warm, comfortable, and stylish while embracing campus life in 2023.
Follow us on Facebook and Instagram.
Join our Group on Facebook to get more discount information on Venustas.
Read Venustas heated jacket manual:
---