Best Heated Hunting Gear 2023: Keep Warm and Focused
When it comes to hunting, it's not just about skill and experience. Staying warm and focused is crucial for a successful and enjoyable experience. As weather conditions can often be unpredictable, having the right gear is essential. In recent years, heated hunting gear has gained popularity among hunters due to its ability to provide warmth in the cold environments. In this blog post, we will explore the advantages of using heated gear for hunting and provide recommendations for the top-rated heated hunting gear in 2023.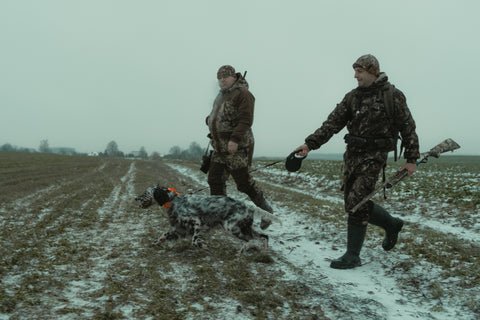 Are Heated Gear Good for Hunting?
Heated gear has revolutionized the hunting experience by offering hunters a reliable source of warmth in cold conditions.
The primary advantage of heated gear is its ability to keep the body warm, allowing hunters to stay comfortable and focused for extended periods. Hunting can be a challenging activity, especially in extreme temperatures. Heated hunting gear helps to keep your core body temperature regulated, allowing you to stay comfortable and focused on your hunt. This can be useful during long hunting trips or when hunting in different weather conditions.
Furthermore, they are designed to be lightweight and flexible, which can enhance your mobility while hunting. Some types of heated gear, such as heated pants or gloves, provide added warmth to extremities, reducing numbness and improving hand-eye coordination. This, in turn, can greatly enhance your hunting performance.
Best heated hunting gear: Our top picks
There are numerous factors to consider before venturing into the woods, and appropriate attire selection is among them. The appropriate equipment can significantly contribute to the comfort and effectiveness of a hunting expedition. Venstuas offers a range of products that are well-suited to enhance the whole experience, ensuring that your trip remains memorable.
1.Venustas Men's 3-in-1 Heated Jacket
Specs:
5 heating zones(left & right chest, left & right shoulders, mid-back)
3 adjustable heating levels
3 wearing ways: outershell & the inner fleece heated clothing can be worn together or separately.
Water resistance
Hunters really favor heated jackets because they're like a Swiss Army knife – adaptable and excellent at keeping the whole body toasty. 3 heating levels allow hunters dial in the perfect amount of warmth based on what they like and how the weather's behaving. Hunters who regularly venture into below-freezing temperatures will likely fall head over heels for heated jackets because it's equipped to keep you warm, patient, and focused during those long days in the field.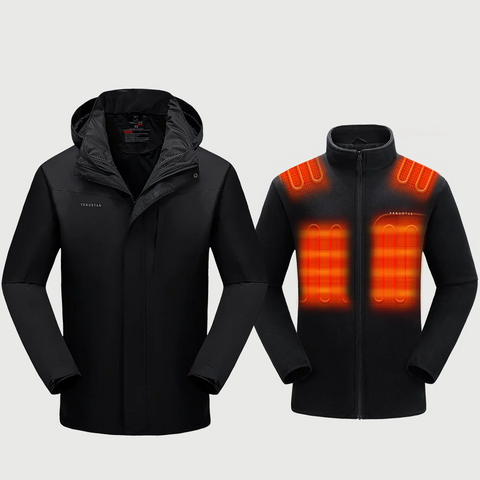 2. Pullover Heated Hoodie for Unisex
Specs:
Pullover designmakes it easy to wear
No extra decorations added
Soft shell & lining
5 Graphene heating elements cover back, chest, and 2 pockets
3 heating levels
If you're after something laid-back and cozy, heated hoodies are the way to go. These hoodies perfectly blend fashion and practicality, keeping hunters snug while still letting them move freely. It would work perfectly as part of layering system for hunters who want complete control of their body temperature in changeable weaather conditions.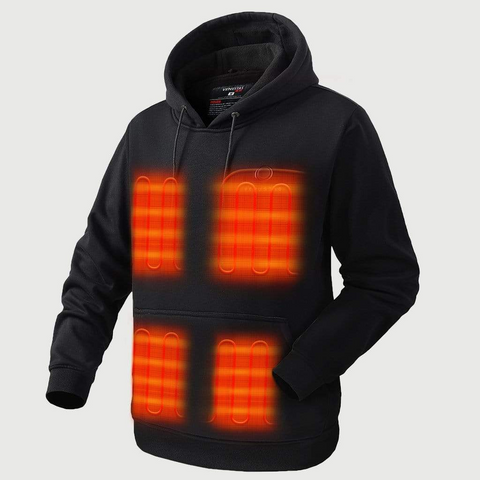 Specs:
6 carbon fiber heating elements(left & right shoulders, mid-back, left & right pockets, collar)
3 heating levels
Water-resistant nylon fabric
4 pockets with YKK zippers
Heated vests are the go-to for hunters who want to stay warm while keeping their arms free to do anything. The lightweight feature makes it perfect for layering over other pieces or even underneath a largewinter coat. The heating elements in these vests are smartly positioned to hit the core body area, giving hunters a snug and toasty time.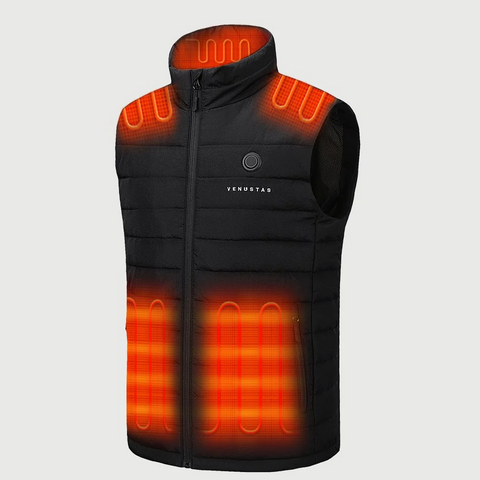 4.Venustas Heated Thermal Underwear Pants For Men
Specs:
4 Graphene Heating Panels(abdomen, back waist, left and right knee)
3 heating levels
Improve your blood circulation
Reduce muscle stiffness 
Remarkable moisture-wicking knitted cation
100% polyester lining
When you're out on a hunting adventure, don't neglect those lower limbs – they need some warmth too. Heated trousers can keep your legs and lower back toasty, even in the coldest weather. Plus, with 3 adjustable temperature settings, you're the boss of your comfort to bring you a excellent hunting experience.
5.Venustas Heated Gloves for Men & Women
Specs:
Heating Elements cover your 10 fingers and the back of the hands
3 heating levels
Adjustable Wrist Velcro
Anti-lost Buckle & Labor-Saving One-pull Closure
Touchscreen Compatible design
Waterproof battery pocket
Reflective Strip
When it comes to cold hands issue during hunting, heated gloves are a great choice. These gloves wrap your fingers and palms in a warm embrace with the graphene heating elements and thermal insulation. The water-resistant heated gloves possess a superior grip, facilitating effortless handgun handling during inclement weather conditions. Also, you can enjoy the perfect warmth thanks to adjustable settings, even when you hunting below -10℃.
Conclusion
When you're out hunting in the cold, having heated gear can totally change the game. If you put your money into high-quality heated jackets, hoodies, vests, pants, and gloves, you'll be in for a warm, cozy, and on-point hunting experience. Thanks to t he heating technology, the 2023 market has many heated hunting gear choices. So, suit up with the finest heated hunting gear and dive into a hunting adventure to enjoy wamth while keeping your focus on the target.
Follow us on Facebook and Instagram.
Join our Group on Facebook to get more discount information on Venustas.
Read Venustas heated jacket manual:
---