Tips About Venustas Heated Gloves
Are you afraid of cold hands? Heated gloves offer the perfect solution. The heated gloves are connected to a battery pack to generate heat continuously and keep your hands warm. The mobile power pack supplies power for a long time to offer warmth and comfort. The temperature can be adjusted in three levels with one button to meet the needs of different conditions. We hope this blog has given you a full and insightful understanding of heated gloves.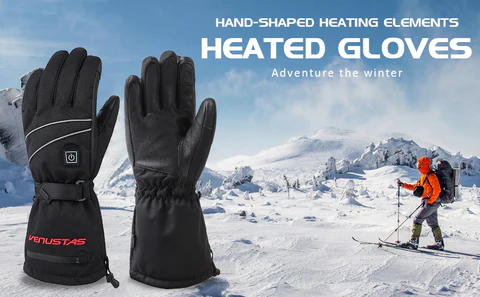 What Are Heated Gloves?
Heated gloves come with a heating function, which can keep hands warm in a cold environment. Venustas provides electric gloves for customers. The electric heating gloves are designed with carbon fiber heating elements inside, and need to be connected to a mobile power supply for heating. The battery of the heated glove needs to be charged. Connect the battery pack, put the battery into a special battery pocket, long press the one-button on the glove to turn on the power, and short press to freely switch between 3 levels (high, medium and low) of heating temperature. The capacity of the battery mainly determines the heating time of the heated glove battery. The heated gloves last between 2.5 and 6 hours, Besides, the heating level selected by the user will also affect the battery life of the glove.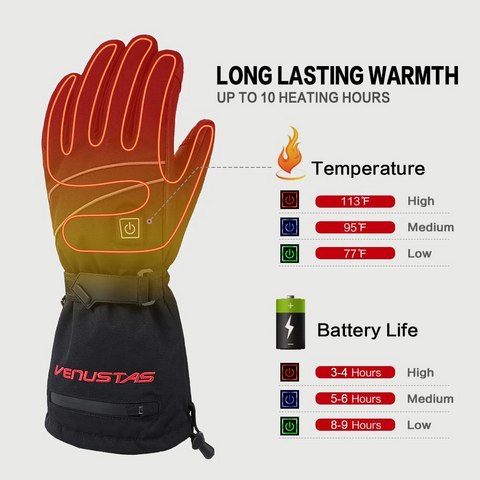 Who Are the Heated Gloves Suitable for?
Anyone can use heated gloves in cold weather conditions. Heated gloves are popular among the following groups: motorcycle riders, snow lovers, outdoor workers, hunters, climbers, hikers, etc., to help them keep their hands warm.
Can Heated Gloves Be Machine Washed?
Most heated gloves are not machine washable. Inside the glove are sensitive parts such as heating elements, wires, etc. Washing in the washing machine could damage the internal heating system of the glove. Therefore, for better care of heating gloves, we recommend hand washing.
Are Heated Gloves Water-Resistant?
It depends on the fabric of the heating glove. If the fabric is waterproof, the glove is waterproof. Venustas heated gloves are water-resistant, made with lambskin & polyester. The shell of the heated gloves is water-resistant & windproof while still featuring excellent breathability.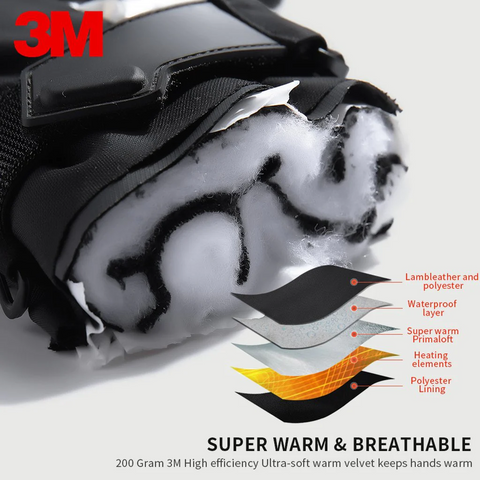 Do Heated Gloves Have a Touch Screen Function?
Venustas heated gloves are designed with microfiber pads on the fingers and have a touch screen function, enabling us to use smart devices such as smartphones.
Are Heated Gloves Safe?
Quite safe! Even though the heated gloves are battery powered and have built-in cords, they are completely safe to use. First of all, the voltage of the gloves is only 7.4V, which is far lower than the human body safety voltage of 36V. Therefore, there is no risk of electric shock. Secondly, the electric gloves  are designed with multiple protections such as overvoltage protection, overcurrent protection, short circuit protection, and overheating protection.
Do Heated Gloves Worth?
Worth. Heating gloves have 3 levels of temperature switchability and a heating function. Another advantage is that the gloves distribute heat evenly and provide extra heat where it is needed most. Most users also prefer heated gloves, as they are warm and comfortable, and can also help reduce joint pain.
Will Heated Gloves Make the Temperature of Your Hands Overheat?
Won't. The heating gloves have multi-level heating temperature adjustable, and users can switch freely according to their needs. The heated gloves have over-temperature protection to prevent the heating temperature from being too high.
Conclusion
The heated gloves feature fast heating, long lasting, three-adjustable temperatures, windproof, waterproof, soft, and comfortable wearing. It is one of the necessary equipment for outdoor sportsmen in winter. The purpose of this blog is to clear up some confusion when it comes to buying heated gloves if you're hesitant to purchase them.
Follow us on Facebook and Instagram.
Join our Group on Facebook to get more discount information on Venustas.
Read Venustas heated jacket manual:
---