5 Best Backpacking Gear of 2023 [Comprehensive Test and Review]
Backpacking, an adventurous hobby known for traveling outside while carrying all necessities on your back. Whether you're planning a weekend getaway or a multi-day hike, having the correct equipment is crucial for a successful and pleasurable trip. We will introduce 5 backpacking items of 2023 assist you in selecting the best backpacking equipment for your kit.
Best Ultralight Backpacking Backpack: Hyperlite Mountain Gear 3400 Southwest Pack
Best Overall Backpacking Tent: Big Agnes Copper Spur HV UL2 Tent
Best Backpacking Cooler:YETI M20 SOFT BACKPACK COOLER
Best Backpacking Shoes: La Sportiva TX4 Shoes

Best Backpacking Clothing: Venustas Men's Heated Jacket 7.4V
Benefits of Backpacking
Backpacking is the term for carrying a bag while exploring various regions. Before we discuss the gear, let's take a moment to discuss the benefits of backpacking.
First and foremost, backpacking gives you the chance to escape the stress of everyday life and reconnect with nature. It offers a chance for self-examination and renewal.
Second, backpacking is a terrific method to maintain a healthy and fit lifestyle. In addition to building stronger muscles, hiking across difficult terrain and carrying a heavy backpack enhances cardiovascular endurance. Backpacking's strenuous physical requirements help you maintain your physical fitness while taking in nature.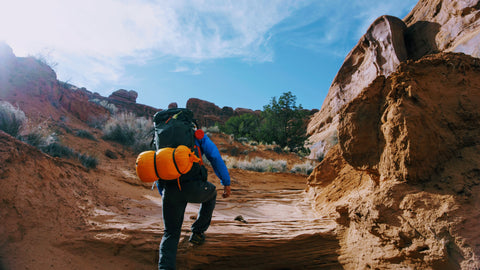 Last but not least, hiking encourages a spirit of discovery and adventure. It enables you to explore distant wilderness locations, beautiful scenery, and hidden jewels that are not reachable by conventional modes of transportation. Reaching a breathtaking vantage point or setting up tent in a gorgeous area brings a sense of unmatched achievement and amazement.
5 Best Backpacking Gear
A reliable and waterproof backpacking bag is essential for keeping your gear safe and dry. The Hyperlite Mountain Gear 3400 Southwest Pack is designed with innovative materials that repel water, keeping your belongings protected even in the harshest weather conditions. Multiple compartments and adjustable straps provide optimal organization and comfort during your backpacking adventures.
Specs:
Capacity: 55 Liters
2 lbs/2.9 oz Weight
Material: Dyneema composite, aluminum
Pockets Accounts: 3 Number of Exterior Pockets
Dimensions: 34 x 10.5 in.; top circumference: 40 in.; bottom circumference: 33.5 in.
Pros:
Lightweight
Softer Design
Water-Resistant
Durable
Breathable
Cons:
Only 3 Pockets
A Little Expensive
A number of ultralight packs are designed for thru-hikers and minimalists, but our top pick is the Hyperlite Mountain Gear Southwest. 
Water resistant and lightweight feature give it its distinctiveness. Aluminum struts and a strong foam back panel enable it to withstand hefty weights rather easily. The detachable metal stanchions properly distribute the weight, and the 1/4 inch foam back panel padding gives a great layer of padding to prevent the pack's contents from heart my back.
It has grown to be the preferred backpack for hikers since its 55-liter capacity is sufficient for extended journeys. It functions as both a rafting dry pack or an overnight, multi-day pack in our hands.
A high-quality tent is crucial for a comfortable and secure night's sleep while backpacking. The Big Agnes Copper Spur HV UL2 Tent is lightweight, easy to set up, and offers excellent weather protection. They are designed with durable materials that can withstand heavy rain, gusty winds, and even snow. It provides ample space for you and your gear, ensuring a cozy and relaxing camping experience.
Specs:
Sleeping Capacity: 2-person
Minimum Trail Weight: 2 lbs. 11 oz.
Fly/Footprint Pitch Weight: 2 lbs. 2 oz.
Packaged Weight : 3 lbs/2 oz.
Packed Size: 6 x 19.5 inches
Floor Dimensions: 88 x 52/42 (L x W head/foot) inches
Floor Area: 29 square feet
Vestibule Area: 9 + 9 square feet
Peak Height: 40 inches
Number of Doors: 2 doors
Number of Poles: 1
Pole Material: DAC NFL
Pole Diameter: 8.7 millimeters
Pros:
Drizzle And Sun Protection
Tiplok Buckles
Lightweight Double Ripstop Nylon
Quick Stash Door-Keeper
Easy Set Up
Cons:
A little expensive
Tapered construction means you can only sleep in one direction
The tent can be folded down to a size of 6 x 19.5 inches, and you can easily carry it when backpacking. It also fits neatly in a duffel bag. The design contains pre-bent pole pieces at each corner to further increase the internal space, keeping the tent body taut even while camping on challenging terrain like rocks.
The tent held up admirably in a range of circumstances, including mid-wind, dust, and nighttime rain. The tight, completely self-contained frame is sturdy in windy conditions, and the full-coverage rain cover performs an excellent job of blocking out persistent rain.
Keeping your food and beverages fresh and cool during a backpacking trip can be a challenge. YETI coolers are designed specifically for outdoor enthusiasts. It's coolers are lightweight, portable, and equipped with advanced insulation technology to keep your food and drinks cold for days.
Specs:
External Dimensions: 15.3"W x 9.9"D x 18.1"H(38.9W X 25.1D X 46.0H CM)
Internal Dimensions: 11.6"W x 8.9"D x 14.0"H(29.5W X 22.6D X 35.6H CM)
Empty Weight: 5.6LBS(2.5KG)
Material: High-density Fabric, Strong magnets
Pros:
Large Capacity:
Fit 36 Cans(only)
Fits 22lbs of ice(only)
Fits 7 Wine Bottles(only)
Technology:Closed-cell foam technology
Mildew Resistant
Hand-free and comfortable fit
Cons:
Strong Chemical Smell
The new MagShield Access opening design makes it simple to open and close the cooler and remains entirely airtight after closing the cooler. Backpack coolers are popular for their mobility. On extended excursions, the M20 Soft Backpack Cooler provides the finest thermal insulation and delicious lunch. It also carries a lot of weight easily, even on rough terrain.
4. La Sportiva TX4 Shoes($159)
Having the right pair of hiking shoes is essential for a comfortable and injury-free backpacking experience. La Sportiva TX4 Shoes are  designed with advanced cushioning and support systems to protect your feet from impact and provide stability on uneven terrains. They are also made from durable and waterproof materials, ensuring longevity and dryness during your adventures.
Specs:
Weight:1 lb/10 oz
Material:Nubuck Leather, Tacky Rubber, Leather Upper
Pros:
Extremely sticky rubber for rocky terrain
Supportive but cushioned
Durable, abrasion-resistant leather upper
Cons:
A bit heavy
Leather can shrink when wet
If you're trekking over distances of several miles across challenging terrain, it might be time to wear a pair of La Sportiva TX4 Shoes. They combine the durable, long-lasting last of a standard hiking shoe with the grippy, stick-to-anything rubber of rock climbing shoes to offer unrivaled grip and durability.
They are also comfortable enough to log some big kilometers, long-distance walking on maintained routes as well as off-trail navigation through damp, boulder-strewn terrain.
5. Venustas Men's Heated Jacket 7.4V($199.99)
Staying warm in cold weather is crucial for your safety and comfort while backpacking. Venustas heated jacket is a game-changer in outdoor apparel. It is equipped with advanced heating elements that provide adjustable warmth at the touch of a button. With its innovative heating technology, the heated jacket ensures that you stay cozy and warm even in freezing temperatures, It is lightweight, water-resistant, and designed for outdoor activities.
Specs:
Battery Weight: 6.88oz.
Material: 100% Polyester, Nylon Fabric, New Mylar Thermal Ling,
Features: 5 Pockets with YKK zippers, Detachable and Adjustable Hood, Water Resistance, 5 Heating Zones
Fit: Regular
Pros:
3 adjustable temperature levels
skin-friendly and softfeeling
Water and wind-resistant exterior keep you warm and dry
Rechargeable
Keep warm up to 9 hours
Cons:
A little expensive and heavy than normal jacket
Heat is produced across the key body regions (left and right chest, left and right shoulder, and mid-back) by 5 carbon fiber heating elements. Venustas heating elements is 30% bigger than conventional heating components. By pushing the button, the heated jacket's 3 heating settings may be changed: high (3 hours), medium (5–6 hours), and low (8–10 hours). Additionally, a nylon shell that is wind- and water-resistant keeps you dry and toasty in erratic weather.
For those who are passionate about spending time in nature, such as backpacking, it's important to maximize the quality of their outdoor experience. A Venustas heated jacket can keep you warm, dry, and comfortable in fall, winter, and spring backpacking even if the weathers fluctuate quite a bit from day to night.
Conclusion
To sum up, purchasing high-quality backpacking equipment is essential for having a successful and pleasurable outdoor experience. We hope these items(water-resistant camping bag, tent, cooler, hiking shoes, and Venustas heated jacket) can improve your backpacking experience by offering ease, comfort, and safety in the great outdoors. So prepare for your upcoming backpacking trip and go with confidence!
Follow us on Facebook and Instagram.
Join our Group on Facebook to get more discount information on Venustas.
Read Venustas heated jacket manual:
---