What's the Best Heated Jacket for Women?
"It is awesome that I finally get my heated jacket and it perfectly fits me, no matter the style, the size, or heating effect."
You know, it is miserable for those who are susceptible to the cold but have to spend long times outside in winter. I am a cleaner who is responsible to keep the environment neat in the community. I love this job, but it is not easy in winter because of the bitterly cold weather.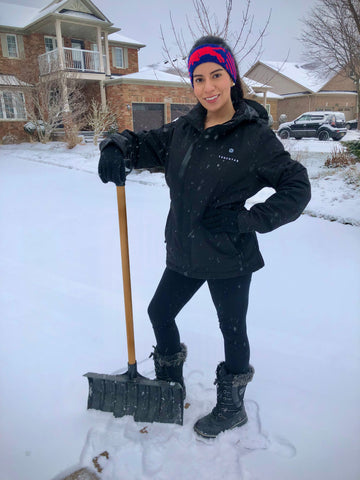 To solve this overwhelming issue, I bought a heated jacket with the recommendation of my friend. It proves this item is worth my investment. I can do my job without heavy burdens and a shivering body. But it is tough to select the best heated jacket for me. I spend a lot of time in comparing different heated apparel brands and going through customer reviews or blogger reviews. So, to save your time, the below blog share you with some selection tips to pick the best heated jacket for you.
Important things about the heated jacket for women
Grown over the years, the heated jacket has successfully occupied the market owing to its advanced heating technology. Most people who live in the colder areas believe it is an essential item in winter, especially the women who are more sensitive to the cold than men. So, what aspects women would pay more attention to when purchasing the heated jacket? I will tell you the answer.
Price is a more significant consideration for women, which greatly decides whether they would place an order or not. As a general rule of thumb, women are more likely to spend time and energy comparing the price and bargaining in shopping. This concept is similarly used in selecting the heated jacket.
Researching on the market, it is easy to find the heated jacket is a bit expensive, almost ranging from 100$ to 200$. Maybe it is a common idea that the more the heated jacket costs the better it would be. But it ignores the price performance as a standard to measure the value of goods. So, I believe that it is a great idea to combine your budget and price performance for women.
When it comes to the heated jacket, women are apt to attach great importance to its overall performance.
Starting with the heating system, the carbon fiber heating element and graphene heating element are commonly regarded as the prominent feature for most manufacturers. Both possess remarkable thermal conductivity to provide you with extraordinary comfort and warmth.
Material is equally important. It's well-known that poor material is bad for our skin. Heated jacket is commonly made up of the outer shell and the inner layer. The interior and exterior adapt with different materials because they are different in function. For the best heated jackets, nylon and polyester are the main materials of shell, which ensure outstanding water-proof ability and wind-proof ability. The inner layer commonly uses fleece and down to keep the body warm.
Finally, it is the battery as the main source of heat. There are many kinds of batteries on the market, like 5V batteries, 7.4V batteries, and 12V batteries. Different batteries have their own unique features. One important thing that should be kept in mind is to pick a certified lithium battery.
As the old saying goes, a desire to look attractive seems a human nature for women. They always focus more on the style or design when selecting the clothes.
It seems that heated jackets on the market are the same. The differences may be in the heating elements, battery or materials. But there are some slight differences in the style if you look more carefully. Some are fashionable with a hoodie and stand collar design. Some are slim-fit design to highlight the outlooks of women.
Compared with men, women may pay more care to the service. Some of them believe that it is fatal if the product is outstanding in every aspect without good service.
The service mainly includes the warranty policy and return policy. In fact, most heated apparel brands have a particular policy for after-sale problems to achieve customer satisfaction. For example, the warranty policy from Venustas is reliable. Their heated clothes are covered with 2-year limit warranty on heating elements and 1-year on the battery. Normally, the warranty period is longer the benefit is more for us.
It's a habit to go through the customer reviews in shopping. You know, reviews can reflect some information about the product, like its quality or price performance.
For the first buyers, the common problem with the heated jacket is the security issue. Going through the review can help them get rid of the concern. You know, some specialized review bloggers give users more feedback, which is conducive to allowing you to know more about the heated jacket.
Best heated jacket for women
Combining my experience with the customers' reviews, I particularly pick the three best heated jackets for you.
Venustas Women's 3-in-1 heated Jacket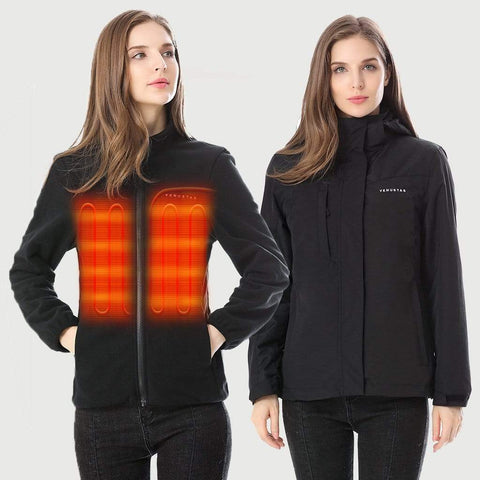 The first one is Venustas women's 3-in-1 heated jacket. It is an all-purpose heated jacket that fits all weather conditions. Compared with most heated jackets, this heated jacket made from the waterproof shell and fleece inner can be worn together and separately.
Ororo Women's Slim-Fit Heated Jacket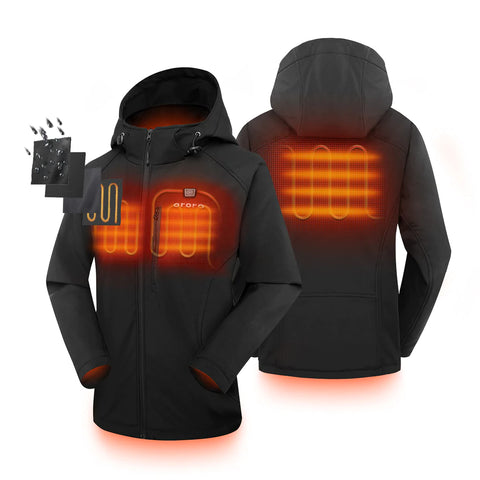 The second one comes from Ororo, one of the professional heated apparel brands. This heated jacket with a slim-fit design attaches more attention on the market. Although the Ororo heated jacket is more expensive than others, the remarkable overall performance including its soft shell, detachable hood and 7.4V battery deserves our investment.
PTAHDUS Women's Soft Shell Heated Jacket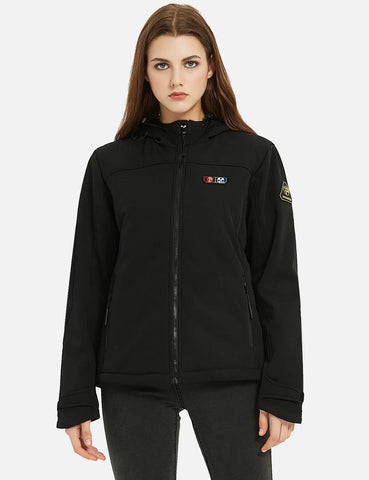 The last one is PTAHDUS women's soft shell heated jacket. It is equipped with 5 carbon fiber heating elements, which can provide you extra warmth to block the chilly cold. The heated jacket uses DWR to strengthen the waterproof ability to give you a better wearing experience.
Price

Overall Performance

Style

Service

Review

$199.99

5 graphene heating elements
Nylon shell and polyester ling
7.4V battery


3-in-1 design

1-year on battery

2-year on heating elements

★★★★★

Ororo Women's Slim-Fit Heated Jacket 

 

$289.00

carbon fiber heating elements
100% Polyester
7.4V battery


Slim-fit design

1 year

★★★★★

PTAHDUS Women's Soft Shell Heated Jacket

 

$149.99

5 carbon fiber heating elements
100% cotton
7.4V battery


 Hood design

90 days on garment

30 days on battery

★★★★
Conclusion
All in all, heated jacket is essential for women, no matter whether working outside or inside. Just pick a heated jacket that features affordable price, excellent overall performance, and your favorite style to enjoy the cold days.
---