Hit the Road in Winter: Which is Your Best Heated Motorcycle Gear?
For motorcycle fans, riding in the winter can be an exhilarating experience, but it also presents a lot of difficulties. Any ride can become uncomfortable and dangerous, due to the icy conditions and chilly gusts. Fortunately, there are some feasible answers to these issues. Heated motorcycle gear can help in this situation. In this article, we'll discuss the benefits of heated riding gear for motorcycle enthusiasts and share our 5 top heated motorcycle gear.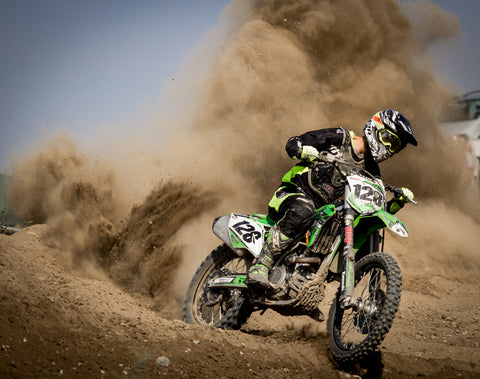 Importance of Heated Gear for Motorcycles:
Winter riding is not just about comfort; it's about safety. Cold temperatures can lead to numbness and reduce dexterity, making it more challenging during riding. Nobody wants to be halfway through a long drive on the freeway in low body temperature.
Your body temperature while riding a motorcycle impacts more than just your comfort. In fact, being too cold can actually put you and other motorists in harm's way. This will negatively impact your awareness, reflexes, and balance, increasing the chances of a potential accident. With heated motorcycle gear, you are protected against the elements while on the road.
Warm motorcycle gear can help you operate your bike's controls more efficiently and accurately. Heated motorcycle jackets counteract cold winds, keeping your core relaxed and your mind free. Heated pants and socks generate heat for the lower body and feet, eliminating the distraction of freezing legs and feet. This allows you to maintain focus, increase awareness, and improve anticipation. You can operate the levers better and have an extended riding period.
Our Top Pick: 5 Best Heated Motorcycle Gear:
If you plan to ride in cold temperatures, consider picking up some heated gear.
1.Heated Motorcycle Jacket
A heated motorcycle garment is an absolute necessity for winter riders. It ensures that the rider's body temperature is maintained even in the coldest conditions by providing internal warmth. Consider jackets with three temperature settings and strategically placed heating elements in critical areas such as the chest, back, and arms, etc.
The waterproof shell & the inner fleece heated clothing can be worn together or separately. 
5 heating elements across the left & right chest, left & right shoulders, mid-back, distributes heat more effectively.
Makes a leap in preheat duration thanks to the great thermal conductivity.
2.Heated Motorcycle Vest:
A heated vest has the advantage of being lighter and less restrictive than a jacket. A heated vest that is breathable, lightweight, and form-fitting is an excellent option for motorcyclists who prefer greater mobility and maneuverability. The vests can be worn underneath a standard motorcycle jacket to provide targeted warmth to the upper body. If you dislike the concept of sleeve-in-sleeve and require additional armroom, then these are also for you.
6 carbon fibre heating elements generate heat across core body areas (the collar, left& right shoulder, left & right chest, mid-back), providing warmth and comfort for you in cold weather.
Ultra-soft fleece fabriccan trap the heat and protect you from the cold, this heated vest delivers warmth and maximizing breathability.
4 pockets with zippers help you held your small items during motorcycle driving, prevent them loss.
The fleece heated vest makes lightweight and slim design. You can wear it as mid-layer in extremely cold days.
3.Heated Motorcycle Gloves
After trying heated gloves, it is extremely difficult to return to traditional gloves. Maintaining flexible and warm hands is essential for secure riding. Heated gloves are constructed with heating elements on the back of the hand and the fingertips to provide your entire hand toasty, not just the palmswarmth.
Venustas Heated Gloves for Men & Women
Lambskin & polyester shell is water-resistant & windproof while still featuring excellent breathability.
Heating Elements cover your 10 fingers and the back of the hands. No more cold hands!
Adjustable Wrist Velcro allows the snowboard gloves to be more suitable for your hands. 
Anti-lost Buckle & Labor-Saving One-pull Closure prevent snow or rain from flowing into the gloves.
Touchscreen Compatible design makes it easy for you to take a selfie, browse Instagram or do whatever you want while wearing the gloves.
4.Heated Motorcycle Pants
Do not neglect your lower body! If you'll drive to extremely frigid locations, it is crucial for maintaining body temperature. Even in freezing temperatures, heated pants provide warmth to the legs, ensuring a comfortable voyage. Look for pants with temperature regulation and moisture-wicking properties to keep you dry and comfortable throughout your voyage.
Venustas Heated Thermal Underwear Pants
Lightweight and fit snug against your skin while won't bunch up and contour to the shape of your body. 
4 heating elements that cover your abdomen, back waist, left and right knee, this heated underwear pants can help improve your blood circulation, reduce muscle stiffness and is suitable for the outdoorsy men during the long winter.
Upto 12 hours running time at low heating lets you enjoy the additional warmth all along your sleeping time.
Knitted cation features remarkable moisture-wicking.
100% polyester lining ensures a warm and comfortable wearing experience.
5.Heated Motorcycle Socks
On lengthy rides, having cold feet and toes can be excruciatingly painful. Consider purchasing heated socks if you're preparing for a frigid, long-distance ride. Even in the harshest winter conditions, heated stockings are designed to keep your feet toasty warm. Consider socks with heating elements in the heels and soles, as well as those that wick away moisture to keep your feet dry.
MOJAVE" HEATED SOCKS 3.0 - UNISEX
The whole sole of the foot is now covered with the heating elements forming a 70% heating area.
COOLMAX® is combined in the fabric to ensure a soft, breathable, and moisture-wicking wearing experience. 
Striped rib design with a stay-put fit that won't slip whiledrivingor doing other outdoor activities.
Conclusion
Winter motorcycle riding requires heated gear. It provides your warmth, comfort, and safety on the road. Our top picks for the heated motorcycle gear include jackets, vests, gloves, pants, and socks, all of which are designed to provide targeted warmth and cold protection. So, bundle up, stay warm, and hit the road with confidence this winter!
Follow us on Facebook and Instagram.
Join our Group on Facebook to get more discount information on Venustas.
Read Venustas heated jacket manual:
---