Heated Jacket VS Heated Hoodie: Which One Is Better?
"Heated apparel is added to my winter clothing list. But what troubles me is which one I should buy. A Heated jacket or Heated hoodie?"
In recent years, heated apparel has become more and more popular. As we all know, traditional winter clothing provides warmth with superior thermal material. But heated apparel is different. It brings us warmth through the heating elements powered by the battery. Most people pick it to greet the coming of cold winter or visit some cold areas. Heated apparel includes a range of product lines like heated jackets, heated vests, heated hoodies, heated underwear, and heated gloves. In this article, we particularly dig into the similarities and differences between heated jackets and heated hoodies.
Similarity
Heating system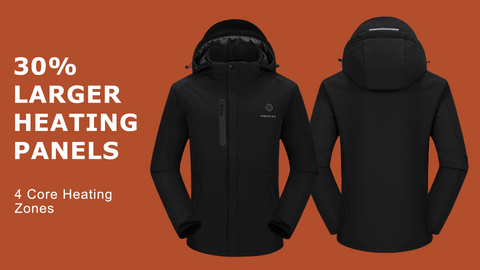 Heated jackets and heated hoodies are equipped with a heating system to keep the core body warm. In the heating system, heating element powered by the battery is a key to generating heat, which is regarded as the most important part of heated apparel. In the market, most manufacturers commonly use carbon fiber and graphene in heating elements. Both materials possess excellent overall performance including remarkable thermal conductivity and damage-proof ability.
Waterproof performance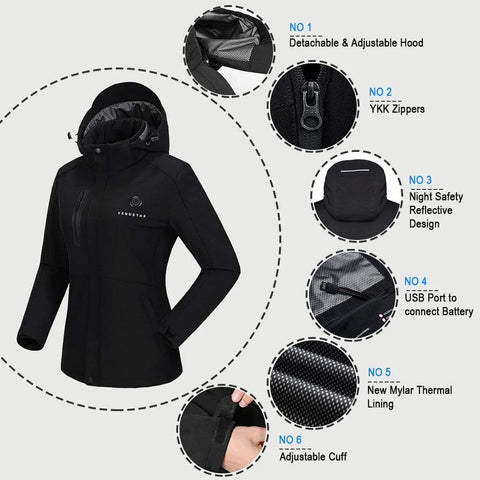 Heated jackets and heated hoodies are waterproof. Both are designed with a water-proof shell that can enables you to get rid of the issue of being got wet on rainy days or snowy days. In the heated apparel industry, nylon and polyester are commonly used material in lining to enhance waterproof and windproof performance. That's the main reason why it enjoys great popularity among those who prefer outdoor activities in winter.
Battery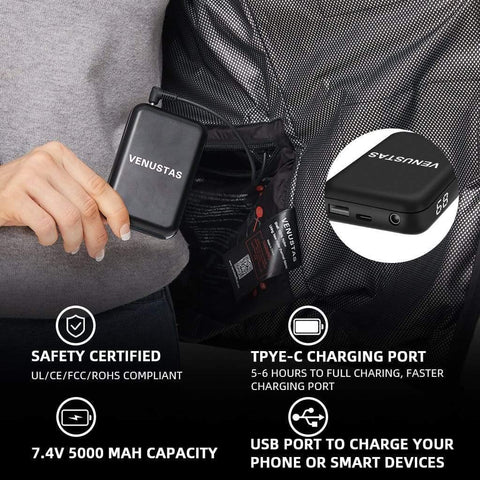 Heated jackets and heated hoodies are powered by batteries. Both operate under the support of batteries. That also means they would lose their value in someplace without electricity. But the used battery is not the same. There are many types of batteries on the market, like 5V batteries, 7.4V batteries, and 12V batteries. These batteries with different capacities have different running time. Besides that, lithium battery is approved by experts because of their long-lasting life, guaranteed security, and damage-proof ability.
Difference
Design
Heated jackets and heated hoodies belong to different product lines, so the design is different. In the market, some heated jackets are designed with a detachable hood to make them look more stylish and form protection for the head and ears on rainy and windy days. For heated hoodies, the most conspicuous feature is the undetachable hoodie design. It makes the users look more casual, which is the best choice for outdoor activities, like camping, hiking, or hunting.
Insulation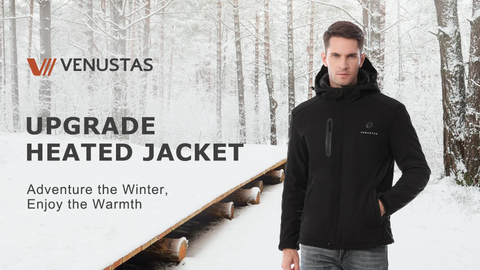 Although heated jackets and heated hoodies provide warmth with core body areas, the insulation differs. Normally, heated jackets have thicker insulation because it is designed to be worn under other pieces of clothing like coats. And heated hoodies without more insulation are the best choice for fall.
Occasion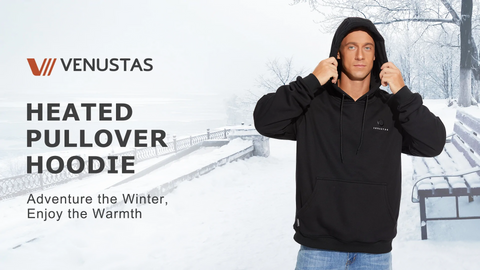 Heated jackets and heated hoodies are suitable for different occasions. Primarily, heated jackets can provide more warmth than hoodies. That indicates the former is the best option for bitterly cold areas. Heated hoodies are lighter than heated jackets, which means the former is the best companion for running, skating, or hiking because there are no more heavy burdens.
Conclusion
In a word, heated jackets and heated hoodies are the best for winter life. No matter which one you pick, the winter would be warmer than ever before with the heated apparel.
Follow us on Facebook and Instagram.
Join our Group on Facebook to get more discount information on Venustas.
Read Venustas heated jacket manual:
---