Happy Thanksgiving Day: 5 Best Gift Ideas to Express Warmth
Thanksgiving Day is approaching, a moment for giving thanks, introspection, and cherishing valuable time with those dear to us. It's a day when we unite to acknowledge our blessings and extend the affection of our appreciation.
As you join in the festivities with your family and friends on this remarkable occasion, contemplate conveying your gratitude through meaningful presents that can genuinely touch the hearts of your loved ones.
In this article, we will investigate the origin of Thanksgiving, Introduce some special traditions, and offer five superb gift suggestions to elevate the significance of this Thanksgiving Day.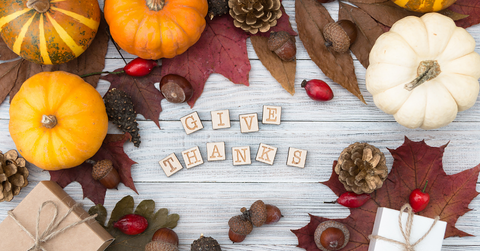 Thanksgiving Day: A Tradition of Gratitude
Thanksgiving Day is a cherished holiday celebrated in the United States on the fourth Thursday of November each year. It's a time when families and friends come together to express gratitude for their blessings and partake in age-old customs. 
Origin of Thanksgiving:
Thanksgiving Day, celebrated on the fourth Thursday of November in the United States, is a cherished holiday with deep historical roots.
It dates back to 1621 when the Pilgrims, seeking religious freedom, celebrated their first successful harvest with a three-day feast attended by Wampanoag Native Americans. This event symbolizes the unity between different cultures and the bountiful blessings of the harvest season.
Traditional Customs of Thanksgiving:
Thanksgiving has evolved over the centuries and has embraced a variety of customs and traditions, including:
Thanksgiving Feast: At the heart of Thanksgiving is a sumptuous meal featuring a roasted turkey, stuffing, cranberry sauce, mashed potatoes, gravy, green beans, and an array of delectable pies, including pumpkin and pecan.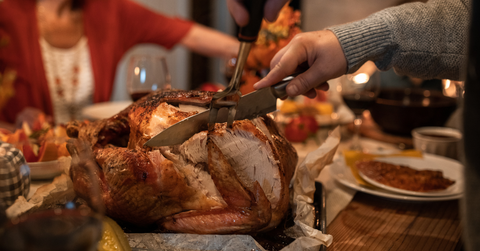 Family Gathering: Thanksgiving is a time for families to come together, often traveling long distances to reunite. It's a time for reconnecting and strengthening familial bonds.
Parades: Many cities across the United States host Thanksgiving parades. The Macy's Thanksgiving Day Parade in New York City is a notable example, featuring colossal balloons, marching bands, and celebrity performances.
Football: For many families, watching NFL games on Thanksgiving Day is a cherished tradition. Some also partaking in friendly football matches in their backyards.
Gratitude: A central theme of Thanksgiving is the expression of gratitude. Families often take turns sharing what they are thankful for before the meal, fostering appreciation.
5 Best Thanksgiving Day Gift Ideas
Thanksgiving is the perfect time to give a gift to those in our lives for whom we are thankful. This can be our co-workers, employees, bosses, or clients.
As the holiday season approaches, consider showing your appreciation with thoughtful gifts to keep your friends and family warm inside and out. Here are five heartwarming gift ideas to make this Thanksgiving Day even more special:
Personalized Gratitude Journal:
Encourage your loved ones to embrace the spirit of Thanksgiving year-round with a personalized gratitude journal. These journals provide a dedicated space for them to record fond memories, and reflect on the positives in their lives.
Warm and Cozy Blankets:
With the onset of chilly weather, few things beat the comfort of wrapping up in a snug and cozy blanket. Delight your friends and family with plush throw blankets crafted from gentle fabrics such as fleece or Sherpa. Blankets are available in an array of colors and patterns, allowing you to select the perfect match for your loved ones' tastes and home decor.
Homemade Treats:
Homemade treats convey your love and gratitude with a personal touch. Dedicate some time in the kitchen to create batches of cookies, pies, or craft homemade jams. Present them in charming jars, decorative boxes, or elegant tins, and don't forget to include a personalized label or heartfelt note. These handcrafted delights not only taste scrumptious but also carry the warmth of your sentiments.
Cookware and Kitchen Essentials:
For the culinary enthusiasts among your loved ones, think about presenting high-quality cookware or kitchen essentials. Items like a fashionable apron, a collection of professional-grade knives, or a versatile cast-iron skillet can enhance their cooking adventures and transform meal preparation into a delightful experience. These thoughtful gifts not only show your appreciation but also elevate their culinary pursuits.
Venustas Heated Apparel:
Elevate the warmth and coziness of this Thanksgiving by presenting your loved ones with Venustas Heated Apparel. These cutting-edge garments, including heated jackets, vests, and gloves, offer adjustable warmth for outdoor endeavors during the chilly season. Be it a brisk Thanksgiving Day hike, watching the parade, or engaging in a family football game, Heated Clothing guarantees that your dear ones remain snug and comfortable throughout the festivities.
Stay Warm with Venustas Heated Apparel
With Thanksgiving Day on the horizon, we eagerly anticipate the warmth of family gatherings, the delights of delicious meals, and the comforting feeling of gratitude in our hearts. Yet, as the holiday season coincides with plummeting temperatures, it becomes crucial to stay warm and cozy while celebrating. Venustas Heated Clothing comes to the rescue, ensuring that you can revel in the festivities without shivering in the cold.
The standout feature of heated apparel is its adjustable warmth. Equipped with advanced heating elements, these garments offer adjustable temperature settings. With three heating levels to choose from, you can find the perfect heat level to match your comfort, ensuring you remain comfortably warm throughout your Thanksgiving celebrations.
Thanksgiving often involves outdoor activities like family football games, parades, and nature walks. Heated clothing allows you to fully engage in these traditions without succumbing to the chill. Whether you're cheering from the sidelines or taking a leisurely stroll through autumn foliage, heated jackets, vests, and gloves ensure that you stay comfortably warm.
Conclusion
Thanksgiving is a time to express gratitude and share warmth with those you cherish. Whether you choose a personalized journal, cookware, a cozy blanket, homemade treats, or Venustas heated apparel, your thoughtful gifts convey your appreciation and bring joy to your loved ones' hearts. As you gather around the table and enjoy the blessings of this Thanksgiving Day, remember that the warmth of love and gratitude is the greatest gift of all.
Follow us on Facebook and Instagram.
Join our Group on Facebook to get more discount information on Venustas.
Read Venustas heated jacket manual:
---