Best Heated Gear for All of 2023 [Helpful Guide]
"I'm an outdoor enthusiast who always explore the adventure all year around. But I don't like to adventure in winter because cold weather makes me uncomfortable and restricts my movement."
"Maybe you need to prepare heated gear."
Spending time outside is an exciting thing for outdoorsy men. They do whatever they like to look for connection with nature, like camping, hiking, mountaineering, and so on.
Preparing gear is an absolute necessity for them to ensure comfort and safety. But it's a tough task if they plan to explore in a cold winter or cold destination. In such scenarios, the need for specialized equipment that can keep them warm and comfortable becomes paramount. This is where heated outdoor gear comes into play as a game-changing solution for conquering the cold and making their outdoor experiences more enjoyable.
If you also have the same issue, please read this passage. We will introduce different types of heated gear to help you smartly equip yourself in winter.
Different types of heated gear for outdoor lovers
Feel always cold even layer with a winter jacket? Maybe you should try a heated jacket. A heated jacket is one kind of fantastic outwear. Built with heating elements, these battery-powered jackets can automatically distribute heat to the body. These heating elements are usually placed on the core body area, like the back or chest. One of best parts is the adjustable heating setting which allows users to control the temperature. So, outdoor people can put heavy clothes away and enjoy a lightweight backpacking experience. It's an ideal and warm choice for climbers, backpackers, and hikers who always explore the harsh environment.
Cold hand is a challenging issue for those who spend lots of time in frigid conditions, like outdoor workers or outdoor explorers. Even if we wear traditional gloves, we find that these gloves cannot provide us with sufficient warmth and ease of movement.
For outdoor people, we think heated gloves are a practical solution. They are usually equipped with heating elements to the back of the hand and 10 fingers to provide warmth. To prevent outdoor elements, the shell of heated gloves are made of water-resistant fabric. This feature ensures fishers or hunters can perform well even on light rain or snow days. Also, these gloves are always designed with an adjustable cuff to keep the snow out and provide a good fit, which help you to do a great job in winter sports.  
Heated Socks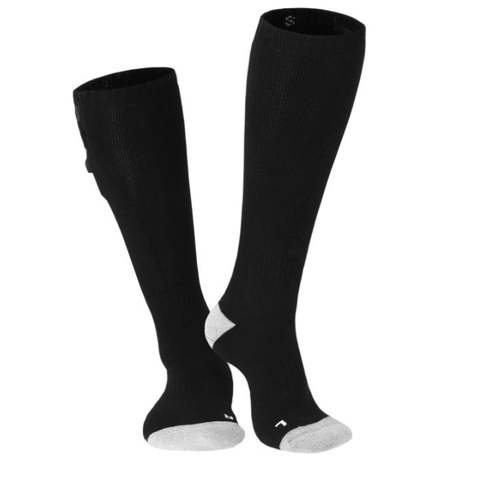 Heated socks are designed to keep feet warm in cold weather. These socks typically are equipped with heating elements or ultra-thin nanometal wires to generate heat. Also, they usually use COOLMAX® technology in the fabric to prevent sweat and odor from the skin, which effectively keeps your feet dry and comfortable all day. It's one of the best parts for those who spend extended hours outdoors in cold conditions. The included batteries are placed in a small pocket, which cannot cause any discomfort to your feet. Plus, the warmth can promote circulation and relieve fatigue, which is a great pick for long-distance travel.  
A heated chair is one type of chair powered by a specially designated battery to generate heat. They are built with heating elements to cover warmth with the backrest and seat to provide warmth. Powered by batteries, they usually can provide several hours of warmth. If you are planning a camping trip in winter, heated chair is a great choice. Also, most heated chairs are designed for all-purpose use. When the weather becomes warm, the heating cushion can be removed, and you can sit on the cool mesh. So, there's no need to worry about the wasted utility in the warm season.
Do you always feel pretty cold when you camp overnight? It's the normal condition because outdoor temperatures tend to drop during the night. So, heated blankets can help you. Compared with ordinary blankets, heated blankets can provide hours of warmth to our bodies during sleeping. A heated system is integrated into the fabric to offer extraordinary warmth. You can adjust the warmth based on the weather and body temperature. It's an ideal option to ensure a cozy and comfortable night's sleep even in the coldest conditions.
Where to buy heated gear?
Here are lots of options that you can consider purchasing heated gear.
Outdoor Retailers. Many outdoor retailers provide a range of options to let you select the equipment fitted for you, like REI.
Online Shopping. It's a popular way to buy the gear you want. Websites like Amazon, eBay, and Walmart offer a wide range of heated gear options.
Specialized Heated Gear Retailers. There are many retailers specialized in selling heated gear, like Venustas Heated Apparel.
Outdoor Show. Typically, some heated gear retailers would participate in outdoor shows to promote their product, like heated jackets, heated vests, heated gloves, and so on.
How to choose the right heated gear?
Determine what kinds of gear you need based on the purpose. If you plan to hike in a snowy mountain, choose a heated jacket for your reliable companion.
Heating system. It's the primary consideration because it determines the overall performance. So, don't forget to consider the description of heating system during purchase.
Battery life. Make sure the battery can provide long hours of warmth for outdoor activities. If the battery is out of power during halftime, it's a terrible thing for you.
Fabric. The material of the gear should be comfortable, breathable, and able to trap heat effectively.
Water-resistance. If you're always exposed to the outdoor environment, it's essential to consider the water-resistance. For example, the nylon or polyester shell of a heated jacket can shield you from light rain or snow.
Compare the prices of different brands and consider your budget to pick the best one for you.
Conclusion
All in all, heated gear is a great innovation for outdoorsy men. With a wide variety of heated gear options available, individuals can choose the type that best suits their specific needs and preferences. No matter which one you choose, they can ensure the warmth and comfort for you. So, if you're an outdoor lover, investing in heated gear is a smart choice.
Follow us on Facebook and Instagram.
Join our Group on Facebook to get more discount information on Venustas.
Read Venustas heated jacket manual:
---