A Must-have Heated Vest Buying Guide for Golfer
Golf is an addictive sport. Whether it's rainy, windy, or cold, I still want to stay at goft field rather than returning home. If I have some equipment to make these bothersome more tolerable, that wouldn't hurt. Here are the best heated golf vests you should know about if you like me.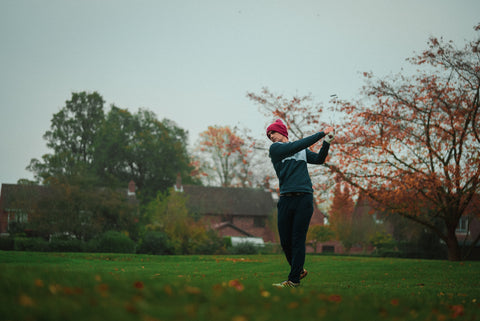 Heated golf vests are versatile cold-weather garments as people say it's a must-have. As a result, they are also convenient for layering. They are warm without restricting arm movement and take up less space than jackets. It is even possible to heat your torso continuously with modern technology. 
What Factors Should Be Considered Choosing Heated Vests?
If you are playing early in the morning during winter season, a heated golf vest can keep you warm and comfortable. So, what should golfers consider when they choosing a heated vest?
Before choosing your heated vest, the first is to consider the heating element type that has been used and the number of heating zones. If you're constantly a bit cold, you may need to choose a heated vest with large or more heating elements. It will provide the warmth you need to enjoy your round of golf.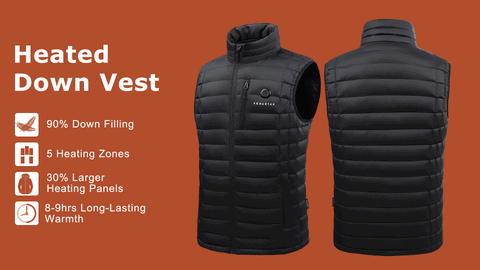 Temperature ratings show how well a vest will work in different conditions. If your vest is not rated for your preferred temperature, it may not keep you warm enough. The amount of heat and heating levels in these heated vests can differ a bit. Therefore, it's important to read carefully about the temperature levels and running times  before purchasing a heated vest.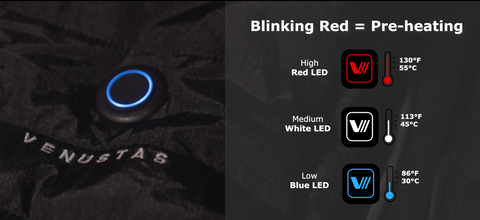 The battery voltage determines the efficiency of the heated vest. If the voltage is higher, the jacket will stay warmer for longer. In addition, check how long the battery takes to recharge.
If you're a golfer, you might be able to recharge your battery in the morning, if it can charge fast enough. The amount of charge time and how long the battery lasts should fit your golf schedule. A heated vest cannot heat if your battery isn't charged. Consider this when selecting a heated golf vest. But the layer of a heated vest is crafted with highly-quality thermal fabric, allowing you to wear it in mild weather.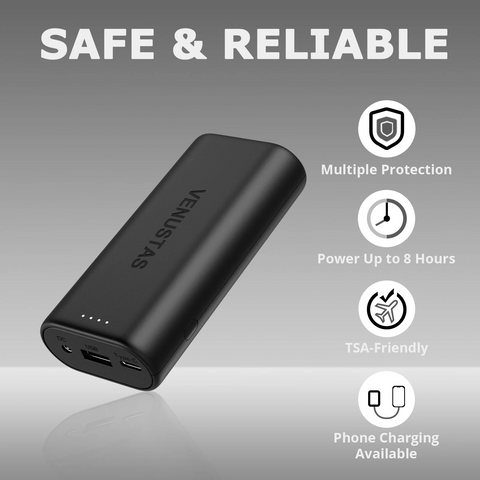 Do you want a fleece vest? Something more athletic? A down vest? Make sure it is nice, comfortable, and fitted your needs and style, whether for work, playing, or something else. When you're out golfing, you'll be moving your upper body a lot during swing your golf. Therefore you'll need a heated vest that won't restrict your movement. Since these are all vests, they should be conducive to swing, but a heated vest with adjustable armholes or flexibility will ensure that the vest won't be moving around to cause any distraction or limiting movement when you're golfing.
It's always helpful to check the type of material your vest has. This will provide you with all the essential information you require about comfort, durability, and weather protection. For example, polyester is mainly used in heated vests because it's less expensive than other materials and is more flexible and lightweight.
Additionally, the fabric can be treated as water-resistant or wind-resistant, making it popular in these vests and other water-resistant outerwear.
Some Heated Vests Recommended
It is essential to have a heated vest with a stand collar in your closet. It adopts a stand collar design, making it is lightweight and comfortable. You can leave the bitter cold behind if you wear this heated vest with carbon fiber heating elements. 5 pieces of 30% larger heating zones covering the back, chest, and 2 pockets, 3 heating levels, keep your core body warm when you're golfing.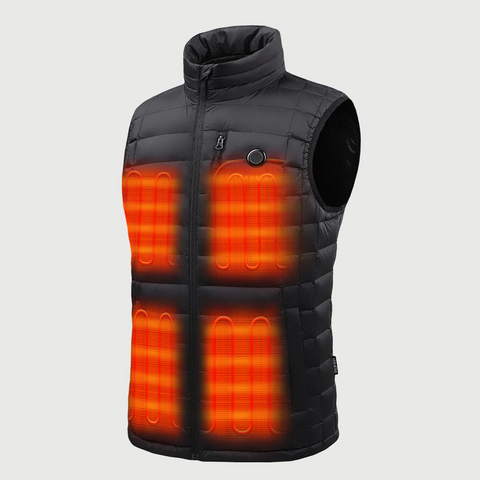 Features and Benefits:
1. Provides heat for up to 9 hours
2. Machine washable
3. Water-resistant nylon fabric and white duck down filling
4. 7.4V battery pack
This puffy, padded, lightweight heated vest is your new go-to for your next golf outing. Upgraded designs make it waterproof and wind-resistant, with more fillings. The easy-to-reach button allows you to adjust between three different heat settings, giving you just the right amount of heat.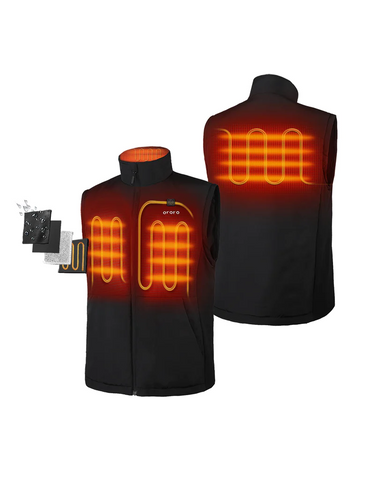 Features and Benefits:
1. A 7.4-volt battery allows up to 10 hours of use on a full charge
2. Carbon fiber heating elements provide total warmth
3. Machine washable so no hand washing
It features 4 heat zones located in right&left chest, back, and collar region. The downside to this configuration is that the pockets aren't heated, but we felt warm enough. But this may not be your preferred choice if you have cold hands. Besides, it comes with a 7.4V rechargeable battery, and after a full initial charge, it keeps the vest warm for around 4 hours on the highest setting. The Bluetooth control is a surprise but honestly not very practical and necessary.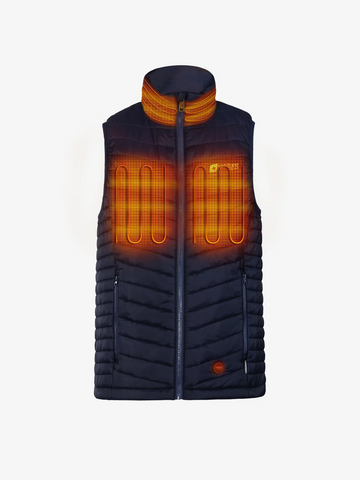 Features and Benefits:
1. Bluetooth app control
2. Soft, comfy fabric
3. Separate pocket for battery
Conclusion
When it comes to winter golf or shoulder season golf, a golfing heated vest can create the sense of a warm summer day. You have a wide variety of options to choose, so be sure to consider the climate and the needs of your family. After reading this blog, we hope you can make a decision that is best for you.
Follow us on Facebook and Instagram.
Join our Group on Facebook to get more discount information on Venustas.
Read Venustas heated jacket manual:
---